Humor
Best New Jokes: March 20, 2005
BEST JOKES OF THE WEEK…GUARANTEED
WILD BLUE YONDER
COMPLETE WITH MESSAGES FROM FLIGHT ATTENDANTS
---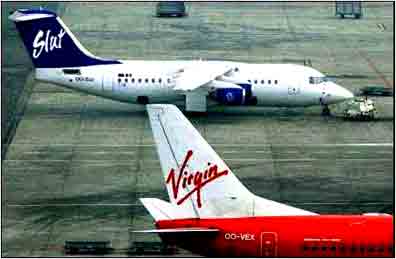 FORGET VIRGIN ATLANTIC
FLY SLUT PACIFIC AIRLINES
REMEMBER OUR MOTTO: "SOMETHING SPECIAL IN THE AIR"
Astronauts are the only people to get out of this world alive.
GETTING HIGH

Two men dressed in pilots' uniforms walk up the plane's aisle. Both are wearing dark glasses, one is using a guide dog, and the other is tapping his way along the aisle with a cane.
Nervous laughter spreads through the cabin, but the men enter the cockpit, the door closes, and the engines start up.
The passengers begin glancing nervously around, searching for some sign that this is just a little practical joke. None is forthcoming.
The plane moves faster and faster down the runway, and the people sitting in the window seats realize they're headed straight for the water at the edge of the airport territory.
As it begins to look as though the plane will plough into the water, panicked screams fill the cabin.
At that moment, the plane lifts smoothly into the air. The passengers relax and laugh a little sheepishly, and soon all retreat into their magazines, secure in the knowledge that the plane is in good hands.
In the cockpit, one of the blind pilots turns to the other and says, "You know, Frank, one of these days, they're gonna scream too late and we're all gonna die."
---
There may be 50 ways to leave your lover,
but there are only 6 ways out of this airplane.

---
As you exit the plane, please make sure
to gather all of your belongings.
Anything left behind will be distributed
evenly among the flight attendants.
Please do not leave children or spouses.
---
WE ARE PLEASED TO ANNOUNCE
LUTHERAN AIR IS NOW OPERATING FROM DULUTH AIRPORT
YA SHURE, YA BETCHA! DIS IS DA LATEST AIR SERVICE TO SPROUT UP IN MINNYSOTA. ALSO SERVING VISCONSIN, NORT AND SOUT DAKOTA.

If you are travelin soon, consider Lutran (Lutheran) Air, da no-frills airline. You're all in da same boat on Lutran Air, where flyin is a upliftin experience. Dere is no first class on any Lutran Air flight.
Meals are potluck. Rows 1-6, bring rolls; 7-15, bring a salad; 16-21, a main dish, and 22-30, a dessert. Basses and tenors please sit in da rear of da aircraft.
Everyone is responsible for his or her own baggage. All fares are by free will offering and da plane will not land 'til da budget is met.
Pay attention to your flight attendant, who will acquaint you wit da safety system aboard dis Lutran Air 599.
Okay den, listen up. I'm only gonna say dis vonce. In da event of a sudden loss of cabin pressure, I am frankly going to be real surprised and so vill Captain Olson, because we fly right around two tousand feet, so loss of cabin pressure would probably mean da Second Coming or someting of dat nature, and I wouldn't bodar with doze liddle masks on da rubber tubes.
You're gonna have bigger tings to worry about den dat. Just stuff doze back up in dair little holes. Probably da masks fell out because of turbulence which, to be honest wit you, we're going to have quite a bit of at two tousand feet, sort a like driving across a plowed field, but after a while you get used to it.
In da event of a water landing, I'd say forget it. Start saying da Lord's Prayer and just hope you get to da part about forgive us our sins as we forgive doze who sin against us, which some people say "trespass against us," which isn't right, but what can you do?
Da use of cell phones on da plane is strictly forbidden, not because day may confuse da plane's navigation system, which is seat of da pants all da way. No, it's because cell phones are a pain in da wazoo, and if God meant you to use a cell phone, He would have put your mout on da side of your head.
We start lunch right about noon and it's buffet style with da coffee pot up front. Den we'll have da hymn sing; hymnals are in da seat pocket in front of you. Don't take yours wit you when you go or I am going to be real upset and I am not kiddin!
Right now I'll say Grace. "Come, Lord Jesus, be our guest and let deze gifts to us be blessed. Fadar, Son, and Holy Ghost, may we land in Dulut or pretty close. Amen!
---
We are pleased to have some of
the best flight attendants in the industry.
Unfortunately none of them are on this flight
---
Passengers not remaining in their seats
until the aircraft comes to a full and
complete stop at the gate will be strip-searched
as they leave the aircraft.
---
FASTEN SEAT BELT SIGN ON

Flying to Los Angeles from San Francisco the other day, a passenger noticed that the "Fasten Seat Belts" sign was kept lit during the whole journey although the flight was a particularly smooth one.
Just before landing, he asked the stewardess about it.
"Well," she explained, "Up front there are 17 University of California girls going to Los Angeles for the weekend.
"In back, there are 25 Coast Guard enlistees. What would you do?"
---
As the plane landed and was coming
to a stop at Washington National,
a lone voice comes over the loudspeaker:
"Whoa, big fella, WHOA!"
---
MEANWHILE, OVERHEARD ON OUR LAST FLIGHT
As a guy takes his seat on an airplane, he is surprised to find a parrot strapped in next to him. After taking off, the flight attendant comes around to serve the passengers on the plane. The guy asks the flight attendant for a coffee and the parrot squawks: "And get ME a coke…NOW!"
The flight attendant, flustered by the parrot's attitude, brings back a coke for the parrot. However, she forgets the coffee for the guy.
As the guy points this out, the parrot drains his glass and screams:
"Get me another coke or I'll really create a scene!"
Quite upset, the attendant comes back shaking, with another coke, but still no coffee.
Irritated at her forgetfulness, the man decides to try the parrot's approach. "I've asked you twice for a coffee. Go and get it right now, or I'll create a scene that will make HIS look like a Victorian tea party!"
The next moment, both the guy and the parrot are grabbed and thrown out of the emergency exit by two burly security guards.
Hurtling towards earth, the parrot turns to him and says: "You're pretty cheeky for a guy who can't fly!".
---
Last one off the plane cleans it.
---
LATEST AIRLINE FOOD POLICY
It was mealtime during our trip on a small airline in the South.
"Would you like dinner?" the flight attendant asked the man seated in front of me.
"What are my choices?" he asked.
"Yes or no," she replied.
---
As we prepare for takeoff,
please make sure your tray tables and seat backs
are fully upright in their most uncomfortable position.
---
FEAR OF FLYING



I am a very nervous flyer. During a trip from California to Indiana, it didn't help that my connecting flight from Denver was delayed twice because of mechanical problems. Then, after we were aloft, I noticed the lights began flickering.
I mentioned this to a flight attendant. "I'll take care of it," she said. Moments later the lights went out. Clearly she'd solved the problem by turning off the lights.
A passenger across the aisle who had been listening leaned over and said, "Whatever you do, please don't ask about the engines."
---
Our seat cushions can be used for floatation.
In the event of an emergency water landing,
please take them with our compliments.
---
A VERY GOOD SEAT

Waiting in a long, slow-moving line for security clearance at the Edmonton International Airport in Canada, I was annoyed to hear a loud male voice behind me. "Excuse me, excuse me," said the man as he pushed his way to the front. "I want to make sure I get a good seat."
I resolved not to let this line-jumper get ahead of me. When I felt a tap on my shoulder, I whirled around, prepared to give the man a tongue-lashing — but found myself face to face with a smiling pilot.
---
Weather at our destination is 50 degrees
with some broken clouds,
but they'll try to have them fixed before we arrive.
---
YOU MAY BE FLYING A NO FRILLS AIRLINE IF..
You can't board the plane unless you have the exact change.



Before you take off, the stewardess tells you to fasten your Velcro.
The Captain asks all the passengers to chip in a little for gas.
When they pull the steps away, the plane starts rocking.
The Captain yells at the ground crew to get the cows off the runway.
You ask the Captain how often their planes crash and he says, "Just once."
No movie. Don't need one. Your life keeps flashing before your eyes.
You see a man with a gun, but he's demanding to be let off the plane.
---
Smoking in the lavatories is prohibited.
Any person caught smoking in the lavatories
will be asked to leave the plane immediately.
---
NOISE ABATEMENT RULES

An airline pilot was scheduled to take a flight from New York to Los Angeles. The weather was too bad in New York to allow his usual on time departure.
The weather in New York finally cleared and the pilot asked for his departure clearance. He was very dismayed to hear that he had another delay due to the increased traffic now leaving New York.
Sometime later he finally received his clearance and decided he would try to make up the time lost by asking for a direct route to Los Angeles. Halfway across the country he was told to turn due South.
Knowing that this turn would now throw him further behind schedule he inquired, quite agitated, to the controller for the reason of the turn off course. The controller replied that the turn was for noise abatement.
The pilot was infuriated and said to the controller, "Look buddy, I am already way behind schedule with all the delays you guys have given me today. I really don't see how I could be causing a noise problem for pedestrians when I am over six miles above the earth!"
The controller answered in a calm voice, "Apparently, Captain, you have never heard two 747s collide!"
---
We do feature a smoking section on this flight;
if you must smoke, contact a member of the flight crew
and we will escort you to the wing of the airplane.
---
THIS WEEK'S BEST BLONDE JOKE

Two blondes going to California for the summer, they are about two hours into the flight and the pilot gets on the intercom and says we just lost an engine but it is all right we have three more but it will take us an hour longer.
A half hour later he gets on the intercom again and says we just lost another engine but its all right we have two more it will take us another half hour though.
One of the blondes says, "If we lose the two last engines we will be up here all day"
---
Please take care when opening
the overhead compartments
because, after a landing like that,
sure as hell everything has shifted.
About
This top-ranked site now has over 4,000 pages of humor, nostalgia, senior advocacy and useful information for seniors 50+. Updates weekly!
The daily e-zine for everyone over 50 who feels way too young to be old.
"...the perfect mix of Andy Rooney, Dave Barry, and Garrison Keilor, combining knee-slapping humor with useful information and genuine compassion."
Retired.com
"Thousands look to and trust Suddenly Senior. Other Websites pale in comparison to the real-life, intimate look into senior lives. What sets apart Suddenly Senior is its blistering honesty and its incomparable encouragement. Millions need guidance."
Suzette Martinez Standring
"Best Senior Site ever on the Web! Great, up-to-date information on how seniors can save money on drugs. Wonderful nostalgia. Hard-hitting senior advocacy pieces that get read in high places. Wonderful humor. It's all at Suddenly Senior."
Alexa.com
KUDOS
Now read by 3.1 million in 83 newspapers from Florida's St. Petersburg Times to the Mumbai, India News.