Humor
Best New Jokes: February 25, 2002
BEST JOKES OF THE WEEK…GUARANTEED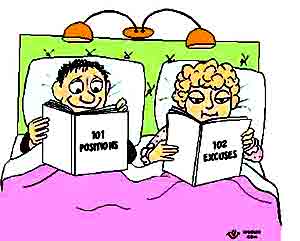 Inside every older person is a young person wondering
what the hell happened.
---
IT'S GOOD TO BE A MAN
Your last name stays put.
The garage is yours.
Wedding plans just take care of themselves.
Chocolate is just another snack.
You can be president.
You can wear a white t-shirt to a water park.
Car mechanics tell you the truth.
You don't give a rat's ass if someone notices your new haircut.
The world is your urinal.
Same work…more pay.
Wrinkles add character.
Wedding dress: $5000, Tux rental: $100.
People never stare at your chest when you are talking to them.
The occasional well-rendered belch is practically expected.
New shoes don't cut, blister or mangle your feet.
Your pals can be trusted never to trap you with: "So, notice anything different?"
You're in one mood, all the damn time.
Phone conversations are over in 30 seconds flat.
A five-day vacation requires only one suitcase.
You can open all your own jars.
Dry cleaners and hair stylists don't rob you blind.
You can leave the hotel bed unmade.
Your underwear only costs $8.95 for a 3 pack.
If you are 34 and single, nobody notices.
Three pairs of shoes are more than enough.
You are not expected to know the names of more than five colors.
You almost never have strap problems in public.
You don't have to shave below your neck.
Your belly usually hides your big hips.
You can "do" your nails with a pocketknife.
You have freedom of choice concerning growing a mustache.
Damn, it's good to be a man
---
IT'S GOOD TO BE A WOMAN!

We got off the Titanic first.
We can scare male bosses with mysterious gynecological disorder excuses.
Taxis stop for us.
We don't look like a frog in a blender when dancing.
No fashion faux pas we make could ever rival The Speedo.
We don't have to pass gas to amuse ourselves.
If we forget to shave, no one has to know.
We can congratulate our teammate without ever touching her rear.
We never have to reach down every so often to make sure our privates are still there.
We have the ability to dress ourselves.
We can talk to people of the opposite sex without having to picture them naked.
If we marry someone 20 years younger, we're aware that we look like an idiot.
There are times when chocolate really can solve all your problems.
We'll never regret piercing our ears.
We can fully assess a person just by looking at their shoes.
We can make comments about how silly men are in their presence, because they aren't listening anyway.
---
REASONS WHY A HANDGUN IS BETTER THAN A WOMAN:

You can buy a silencer for a handgun.
You can trade a .44 for two .22's.
If you admire a friend's handgun and tell him so, he will be impressed and let you try a few rounds with it.
Your primary handgun doesn't mind if you have a backup.
Your handgun will stay with you even if you are out of ammo.
A handgun doesn't take up a lot of closet space.
Handguns function normally every day of the month.
A handgun won't ask, "Do these grips make me look fat?"
A handgun does not mind if you go to sleep after you're done using it.
A handgun doesn't care how big your trigger finger is.
---
COMPUTERS: MASCULINE OR FEMININE?
A language instructor was explaining to her class that French nouns, unlike their English counterparts, are grammatically designated as masculine or feminine. "House" in French is feminine – "la maison," but "pencil" n French is masculine – "le crayon."
One puzzled student asked, "What gender is a computer?" The teacher didn't know. For fun she split the class into two groups – by gender – and asked each to decide whether "computer" should be a masculine or feminine noun. Both groups were required to give four reasons for their recommendation.
The men's group decided that computers should definitely be of the feminine gender ("la computer") because:
1. No one but their creator understands their internal logic.
2. The native language they use to communicate with other computers is incomprehensible to everyone else.
3. Even the smallest mistakes are stored in long-term memory for possible later retrieval.
4. As soon as you make a commitment to one, you find yourself spending half your paycheck on accessories for it.
The women's group, however, concluded that computers should be masculine ("le computer") because:
1. In order to get their attention, you have to turn them on.
2. They have a lot of data but they are still clueless.
3. They are supposed to help you solve problems, but half the time they ARE the problem.
4. As soon as you commit to one, you realize that if you'd waited a little longer, you could have gotten a better model.
The women won.
---
REAL WOMEN VS. MARTHA STEWART

Martha's way #1: Stuff a miniature marshmallow in the bottom of a sugar cone to prevent ice cream drips.
The Real Women's Way: Just suck the ice cream out of the bottom of the cone, for Pete's sake, you are probably lying on the couch, with your feet up, eating it anyway.
Martha's way #2: To keep potatoes from budding, place an apple in the bag with the potatoes.
The Real Women's Way: Buy Hungry Jack mashed potato mix and keep it in the pantry for up to a year.
Martha's way #3: When a cake recipe calls for flouring the baking pan, use a bit of the dry cake mix instead and there won't be any white mess on the outside of the cake.
The Real Women's Way: Go to the bakery. They'll even decorate it for you.
Martha's way #4: If you accidentally over salt a dish while it's still cooking, drop in a peeled potato and it will absorb the excess salt for an instant "fix me up."
The Real Women's Way: If you over salt a dish while you are cooking, that's too damn bad. Please recite with me,
The Real Women's motto: I made it and you will eat it and I don't care how bad it tastes.
Martha's way #5: Wrap celery in aluminum foil when putting in the refrigerator and it will keep for weeks.
The Real Women's Way: Celery? Never heard of the stuff.
Martha's way #6: Brush some beaten egg white over pie crust before baking to yield a beautiful glossy finish.
The Real Women's Way: The Mrs. Smith frozen pie directions do not include brushing egg whites over the crust so I just don't do it.
Martha's way #7: Cure for headaches: Take a lime, cut it in half and rub it on your forehead. The throbbing will go away.
The Real Women's Way: Martha, dear, the only reason this works is because you can't rub a lime on your forehead without getting lime juice in your eye, and then the problem isn't the headache anymore, YOU'RE NOW BLIND!
Martha's way #9: If you have a problem opening jars: Try using latex dishwashing gloves. They give a non-slip grip that makes opening jars easy.
The Real Women's Way: Go ask the very cute neighbor to do it. And finally the most important tip
Martha's way #10: Don't throw out all that leftover wine. Freeze into ice cubes for future use in casseroles and sauces.
The Real Women's Way: Leftover wine??????
---
ARE NATIONS MORE LIKE WOMEN? OR MEN?

Bitter after being snubbed for membership in the "Axis of Evil," Libya, China, and Syria today announced they had formed the "Axis of Just as Evil," which they said would be way eviler than that stupid Iran-Iraq-North Korea axis President Bush warned of his State of the Union address.
Axis of Evil members, however, immediately dismissed the new axis as having, for starters, a really dumb name. "Right. They are Just as Evil…in their dreams!" declared North Korean leader Kim Jong-il. "Everybody knows we're the best evils… best at being evil… we're the best."
Diplomats from Syria denied they were jealous over being excluded, although they conceded they did ask if they could join the Axis of Evil.
"They told us it was full," said Syrian President Bashar al-Assad.
"An Axis can't have more than three countries," explained Iraqi President Saddam Hussein. "This is not my rule, it's tradition. In World War II you had Germany, Italy, and Japan in the evil Axis. So you can only have three. And a secret handshake. Ours is wicked cool."
Elsewhere, peer-conscious nations rushed to gain triumvirate status in what became a game of geopolitical chairs. Cuba, Sudan, and Serbia said they had formed the "Axis of Somewhat Evil," forcing Somalia to join with Uganda and Myanmar in the "Axis of Occasionally Evil," while Bulgaria, Indonesia and Russia established the "Axis of Not So Much Evil Really As Just Generally Disagreeable."
With the criteria suddenly expanded and all the desirable clubs filling up, Sierra Leone, El Salvador, and Rwanda applied to be called the "Axis of Countries That Aren't the Worst But Certainly Won't Be Asked to Host the Olympics,"
Canada, Mexico, and Australia formed the "Axis of Nations That Are Actually Quite Nice But Secretly Have Nasty Thoughts About America," while Spain, Scotland, and New Zealand established the "Axis of Countries That Be Allowed to Ask Sheep to Wear Lipstick."
"That's not a threat, really, just something we like to do," said Scottish Executive First Minister Jack McConnell.
While wondering if the other nations of the world weren't perhaps making fun of him, a cautious Bush granted approval for most axes, although he rejected the establishment of the "Axis of Countries Whose Names End in 'Guay,'" accusing one of its members of filing a false application.
Officials from Paraguay, Uruguay, and Chadguay denied the charges.
Israel, meanwhile, insisted it didn't want to join any Axis, but privately, world leaders said that's only because no one asked them.
---
IF IT WORKS…

When white man found this land, Indians were running it.
There were: – No Taxes – No Debt – Plenty buffalo – Plenty beaver – Medicine man free – Women did all the work – Men hunted and fished all the time
The white man was dumb enough to think he could improve on that system!
About
This top-ranked site now has over 4,000 pages of humor, nostalgia, senior advocacy and useful information for seniors 50+. Updates weekly!
The daily e-zine for everyone over 50 who feels way too young to be old.
"...the perfect mix of Andy Rooney, Dave Barry, and Garrison Keilor, combining knee-slapping humor with useful information and genuine compassion."
Retired.com
"Thousands look to and trust Suddenly Senior. Other Websites pale in comparison to the real-life, intimate look into senior lives. What sets apart Suddenly Senior is its blistering honesty and its incomparable encouragement. Millions need guidance."
Suzette Martinez Standring
"Best Senior Site ever on the Web! Great, up-to-date information on how seniors can save money on drugs. Wonderful nostalgia. Hard-hitting senior advocacy pieces that get read in high places. Wonderful humor. It's all at Suddenly Senior."
Alexa.com
KUDOS
Now read by 3.1 million in 83 newspapers from Florida's St. Petersburg Times to the Mumbai, India News.