Humor
Best New Jokes: February 11, 2002
BEST JOKES OF THE WEEK…GUARANTEED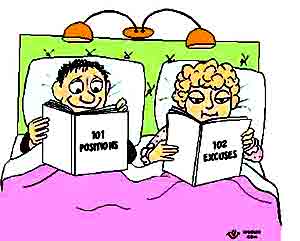 MEDICAL ALERT


The long-term implications of drugs/procedures must be fully considered:
Because over the past few years, more money has been spent on breast implants and Viagra than is spent on Alzheimer's Disease research, it is believed that by the year 2030 there will be a large number of people wandering around with huge breasts and erections who can't remember what to do with them.
---
HOW TO BATHE A CAT

1. Thoroughly clean the toilet.
2. Add the required amount of shampoo to the toilet water and have both lids up.
3. Find the cat and soothe him while you carry him towards the bathroom.
4. In one smooth movement, put the cat in the toilet and close both lids. (You may need to stand on the lid so that he cannot escape.) The cat will self-agitate and make ample suds. Never mind the noises that come from your toilet, the cat is actually enjoying this.
CAUTION: Do not get any part of your body too close to the edge, as his paws will be reaching out for anything they can find.
5. Flush the toilet three or four times. this provides a "Power Wash" and "Rinse", which I have found to be quite effective.
6. Have someone open the door to the outside and ensure that there are no people between the toilet and the outside door.
7. Stand behind the toilet as far as you can, and quickly lift both lids.
8. The now-clean cat will rocket out of the toilet, and run outside = where he will dry himself.
Sincerely,
The Dog
---
THE CIA WANTS YOU!

The CIA had an opening for an assassin. After all the background checks, interviews and testing were done there were three finalists: two men and a woman.
For the final test, the CIA agents took one of the men to a large metal door and handed him a .45 revolver. "We must know that you will follow your instructions, no matter what the circumstances. Inside this room, you will find your wife sitting in a chair. Kill her!"
The man said, "You can't be serious. I could never shoot my wife." The agent said, "Then you're not the right man for this job."
The second man was given the same instructions. He took the gun and went into the room. All was quiet for about five minutes. Then the man came out with tears in his eyes. "I tried, but I can't kill my wife," the man said. "You don't have what it takes. Take your wife and go home."
Finally, it was the woman's turn. She was given the same instructions to kill her husband. She took the gun and went into the room. Six shots were heard, one shot after another. The agents heard screaming, crashing and banging on the walls. After a few minutes, all was quiet. The door opened slowly and there stood the woman. She wiped the sweat from her brow, and said, "This gun is loaded with blanks. I had to beat him to death with the chair."
---
SENT BY A BLACK FRIEND

When I born, I black
When I grow up, I black
When I go in sun, I black
When I cold, I black
When I scared, I black
When I sick, I black
And when I die, I still black.
You white folks……
When you born, you pink
When you grow up, you white
When you go in sun, you red
When you cold, you blue
When you scared, you yellow
When you sick, you green
And when you die, you gray.
So who you callin' colored?
---
MEMBERS OF THE CLUB

Bitter after being snubbed for membership in the "Axis of Evil," Libya, China, and Syria today announced they had formed the "Axis of Just as Evil," which they said would be way eviler than that Iran-Iraq-North Korea axis President Bush warned of in his State of the Union address.
---
THE FLORIDA GATOR

A first grade teacher explains to her class that she is a Florida Gator fan. She asks her students to raise their hands if they are Gator fans too. Not really knowing what a Gator fan is, but wanting to be liked by their teacher, their hands fly into the air. There is, however, one exception. Janet has not gone along with the crowd. The teacher asks her why she has decided to be different.
"Because I'm not a Gator fan," she reports.
"Then," asks the teacher, "what are you?"
"I'm a Seminole fan," boasts the little girl.
The teacher then asks Janet why she is a Seminole fan. "Well, my dad and Mom are Seminole fans, so I'm a Seminole fan too," she responds.
"That's no reason," the teacher says. "What if your Mom was a moron, and your dad was an idiot. What would you be then?"
Janet smiles and says, "Then I'd be a Gator fan."
---
TRUTH

What's the best form of birth control after 40? Nudity. ~~~~~~~~~~~~~~~~~~~~~~~~~~~~~~~~~~~~~~~~
What do male attorneys use for birth control? Their personalities. ~~~~~~~~~~~~~~~~~~~~~~~~~~~~~~~~~~~~~~~~
What's the difference between a girlfriend and a wife? Usually about 45 lbs. ~~~~~~~~~~~~~~~~~~~~~~~~~~~~~~~~~~~~~~~~
What's the difference between a boyfriend and a husband? Usually about 45 minutes. ~~~~~~~~~~~~~~~~~~~~~~~~~~~~~~~~~~~~~~~~
What's the fastest way to a man's heart? Through his chest with a sharp knife. ~~~~~~~~~~~~~~~~~~~~~~~~~~~~~~~~~~~~~~~~
Why do men want to marry virgins? They can't stand criticism. ~~~~~~~~~~~~~~~~~~~~~~~~~~~~~~~~~~~~~~~~~
What's the difference between a new husband and a new dog? After a year, the dog is still excited to see you.
~~~~~~~~~~~~~~~~~~~~~~~~~~~~~~~~~~~~~~~~~~~~~~~
What makes men chase women they have no intention of marrying? The same urge that makes dogs chase cars they have no intention of driving. ~~~~~~~~~~~~~~~~~~~~~~~~~~~~~~~~~~~~~~~~~~~~~~~~~
Why do men find it difficult to make eye contact? Breasts don't have eyes. ~~~~~~~~~~~~~~~~~~~~~~~~~~~~~~~~~~~~~~~~~~~~~~~~~
What's the difference between a Southern zoo, and a Northern zoo? A Southern zoo has a description of the animal on the front the cage, along with a recipe. ~~~~~~~~~~~~~~~~~~~~~~~~~~~~~~~~~~~~~~~~~~~~~~~~~~
What's the difference between a Northern fairy tale and a Southern fairy tale? A Northern fairy tale begins "Once upon a time." A Southern fairy tale begins "'Y'all ain't gonna believe this shit."
---
GOD AND SATAN

And God populated the earth with broccoli and cauliflower and spinach, green and yellow vegetables of all kinds, so Man and Woman would live long and healthy lives.
And Satan created McDonald's. And McDonald's brought forth the 99-cent double cheeseburger. And Satan said to Man, '"You want fries with that?"
And Man said, "Supersize them." And Man gained pounds.
And God created the healthful yogurt, that woman might keep her figure that man found so fair. And Satan brought forth chocolate. And Woman gained pounds.
And God said, "Try my crispy fresh salad." And Satan brought forth ice cream. And Woman gained pounds.
And God said, "I have sent thee heart-healthy vegetables and olive oil with which to cook them."
And Satan brought forth chicken-fried steak so big it needed its own platter. And Man gained pounds and his bad cholesterol went through the roof.
And God brought forth running shoes and Man resolved to lose those extra pounds.
And Satan brought forth cable TV with remote control so Man would not have to toil to change channels between ESPN and ESPN2. And Man gained pounds.
And God said, "You're running up the score, Devil."
And God brought forth the potato, a vegetable naturally low in fat and brimming with nutrition.
And Satan peeled off the healthful skin and sliced the starchy center into chips and deep-fat fried them. And he created sour cream dip also. And Man clutched his remote control and ate the potato chips swaddled in cholesterol.
And Satan saw and said, "It is good." And Man went into cardiac arrest.
And God sighed and created quadruple bypass surgery.
And Satan created HMO's
---
FOR VALINTINE'S DAY: WHAT'S AMORE?

When the moon hits your eye
Like a big pizza pie
That's amore.
When an eel bites your hand
And that's not what you planned
That's a moray.
When our habits are strange
And our customs deranged
That's our mores.
When your horse munches straw
And the bales total four
That's some more hay.
When Othello's poor wife
She gets stabbed with a knife
That's a Moor, eh?
When a Japanese knight
Used a sword in a fight
That's Samurai.
About
This top-ranked site now has over 4,000 pages of humor, nostalgia, senior advocacy and useful information for seniors 50+. Updates weekly!
The daily e-zine for everyone over 50 who feels way too young to be old.
"...the perfect mix of Andy Rooney, Dave Barry, and Garrison Keilor, combining knee-slapping humor with useful information and genuine compassion."
Retired.com
"Thousands look to and trust Suddenly Senior. Other Websites pale in comparison to the real-life, intimate look into senior lives. What sets apart Suddenly Senior is its blistering honesty and its incomparable encouragement. Millions need guidance."
Suzette Martinez Standring
"Best Senior Site ever on the Web! Great, up-to-date information on how seniors can save money on drugs. Wonderful nostalgia. Hard-hitting senior advocacy pieces that get read in high places. Wonderful humor. It's all at Suddenly Senior."
Alexa.com
KUDOS
Now read by 3.1 million in 83 newspapers from Florida's St. Petersburg Times to the Mumbai, India News.