Humor
Best New Jokes: April 30, 2012
BEST JOKES OF THE WEEK…GUARANTEED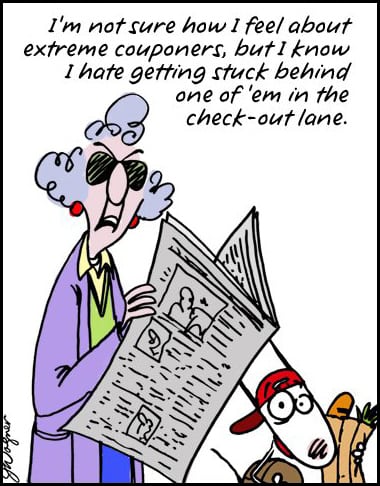 GOLFERS GET THIS

A 75-year-old woman went to the doctor for a check up. The doctor tells her she needed more cardiovascular activity and recommended that she engage in sex three times a week. A little embarrassed, she says, "Please tell my husband."
The doctor went out into the waiting room and told the husband that his wife needed sex three times a week.
The 78-year-old husband replied, "Which days?"
The doctor answered, "Monday, Tuesday, and Friday would be ideal."
The husband said, "I can bring her on Monday, but on Tuesdays and Friday I golf, so she'll have to take the bus."
---
PERK OF BEING OVER 40:
There is nothing left to learn the hard way.
---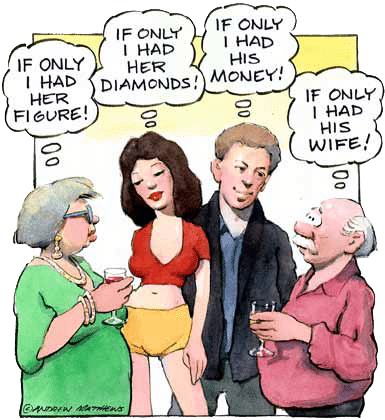 ---

NEW DRIVING STUDY

The National Transportation Safety Board recently divulged they had covertly funded a project with the US auto makers for the past five years, whereby the auto makers were installing black boxes in four-wheel drive pickup trucks in an effort to determine, in fatal accidents, the circumstances in the last 15 seconds before the crash.
They were surprised to find in 45 of the 50 states the last words of drivers in 61.2 percent of fatal crashes were, "S**t!"
Only the states of Oklahoma, Missouri, Arkansas, Alabama and Texas were different, where over 89.3 percent of the final words were: "Hold my beer and watch this."
---
PERK OF BEING OVER 40:
People no longer view you as a hypochondriac.
---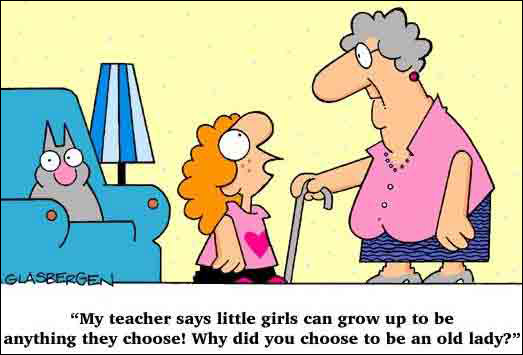 ---

GENDER ROLES

Barbara Walters did a story on gender roles in Kuwait several years before the Gulf War. She noted then that women customarily walked about 10 feet behind their husbands.
She returned to Kuwait recently and observed that the men now walked several yards behind their wives. Ms. Walters approached one of the women and said, "This is marvelous. Can you tell the free world just what enabled women here to achieve this reversal of roles?"
"Land mines," said the Kuwaiti woman.
---
PERK OF BEING OVER 40:
You sing along with elevator music.
---

WHY IT'S GOOD TO BE A WOMAN

1. We got off the Titanic first.
2. We can scare male bosses with the mysterious gynecological disorder excuses.
3. Taxis stop for us.
4. We don't look like a frog in a blender when dancing.
5. No fashion faux pas we make, could ever rival the Speedo.
6. We don't have to pass gas to amuse ourselves.
7. If we forget to shave, no one has to know.
8. We can congratulate our teammate without ever touching her rear end.
9. We never have to reach down every so often to make sure our privates are still there.
10. We have the ability to dress ourselves.
11. We can talk to the opposite sex without having to picture them naked.
12. If we marry someone 20 years younger, we are aware that we will look like an idiot..
13. We will never regret piercing our ears.
14. There are times when chocolate really can solve all your problems.
15. We can make comments about how silly men are in their presence because they aren't listening anyway.
---
PERK OF BEING OVER 40:
People call at 9 PM and ask,
"Did I wake you?"
---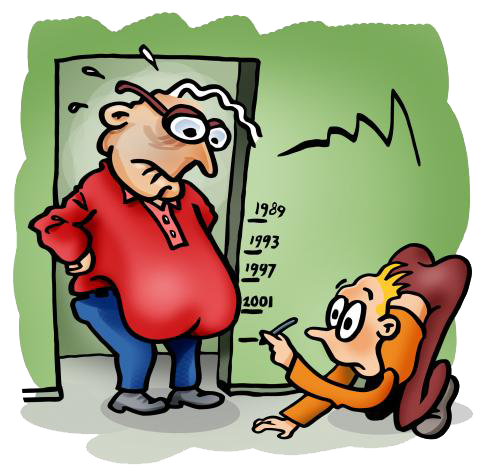 ---
PERK OF BEING OVER 40:
You have a party and the neighbors
don't even realize it.
---

POLITICIANS SEE NOTHING UNUSUAL OR FUNNY ABOUT THIS

While walking down the street one day a female head of state is tragically hit by a truck and dies. Her soul arrives in heaven and is met by St. Peter at the entrance. . "Welcome to Heaven," says St. Peter. "Before you settle in, it seems there is a problem. We seldom see a high official around these parts, you see, so we're not sure what to do with you."
"No problem, just let me in," says the lady.
"Well, I'd like to but I have orders from higher up. What we'll do is have you spend one day in Hell and one in Heaven. Then you can choose where to spend eternity."
"Really, I've made up my mind. I want to be in Heaven," says the head of state.
"I'm sorry but we have our rules." And with that, St. Peter escorts her to the elevator and she goes down, down, down to Hell. The doors open and she finds herself in the middle of a green golf course. In the distance is a club and standing in front of it are all her friends and other politicians who had worked with her, everyone is very happy and in evening dress. They run to greet her, hug her, and reminisce about the good times they had while getting rich at expense of the people. They play a friendly game of golf and then dine on lobster and caviar.
Also present is the Devil, who really is a very friendly guy who has a good time dancing and telling jokes. They are having such a good time that, before she realizes it, it is time to go. Everyone gives her a big hug and waves while the elevator rises.
The elevator goes up, up, up and the door reopens on Heaven where St. Peter is waiting for her. "Now it's time to visit Heaven." So 24 hours pass with the head of state joining a group of contented souls moving from cloud to cloud, playing the harp and singing.
They have a good time and, before she realizes it, the 24 hours have gone by and St. Peter returns. "Well then, you've spent a day in Hell and another in Heaven. Now choose your eternity."
She reflects for a minute, then the head of state answers: "Well, I would never have said it, I mean Heaven has been delightful, but I think I would be better off in Hell."
So Saint Peter escorts her to the elevator and she goes down, down, down to Hell. Now the doors of the elevator open and she is in the middle of a barren land covered with waste and garbage. She sees all her friends, dressed in rags, picking up the trash and putting it in black bags.
The Devil comes over to her and lays his arm on her neck. "I don't understand," stammers the head of state. "Yesterday I was here and there was a golf course and club and we ate lobster and caviar and danced and had a great time. Now all there is a wasteland full of garbage and my friends look miserable.
The Devil looks at her, smiles and says, "Yesterday we were campaigning. Today you voted for us!"
---
PERK OF BEING OVER 40:
You have a party and the neighbors
don't even realize it.
---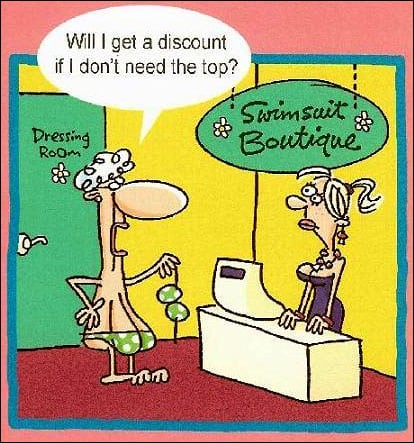 ---

AND, A MORE REALISTIC VIEW OF HEAVEN
Mother Teresa died and went to heaven.
God greets her at the Pearly Gates. "Are you hungry, Mother Teresa?" says God.
"I could eat," Mother Teresa replies.
So God opens a can of tuna and reaches for a chunk of rye bread and they share it.
While eating this humble meal, Mother Teresa looks down into Hell and sees the inhabitants devouring huge steaks, lobsters, pheasants, pastries and wines. Curious, but deeply trusting, she remains The next day God again invites her to join Him for a meal.
Again, it is tuna and rye bread.
Once again, Mother Teresa can see the denizens of Hell enjoying caviar, champagne, lamb, truffles and chocolates.
Still she says nothing.
The following day, mealtime arrives and another can of tuna is opened.
She can't contain herself any longer. Meekly, she says: "God, I am grateful to be in heaven with You as a reward for the pious, obedient life I led. But here in heaven all I get to eat is tuna and a piece of rye bread, and in the Other Place they eat like emperors and kings! I just don't understand."
God sighs. "Let's be honest," He says. "For just two people, does it pay to cook?"
---
PERK OF BEING OVER 40:
Your secrets are safe with your friends
because they can't remember them either.
---

AND FINALLY, THIS WEEK'S BLONDE JOKE
Blonde on a Diet
A blonde was terribly overweight, so her doctor put her on a diet. "I want you to eat regularly for 2 days, then skip a day, and repeat this procedure for 2 weeks. The next time I see you, you'll have lost at least 5 pounds."
When the blonde returned, she shocked the doctor by losing nearly 20 pounds.
"Why, that's amazing!" the doctor said, "Did you follow my instructions?"
The blonde nodded. "I'll tell you though, I thought I was going to drop dead that 3rd day."
"From hunger, you mean?" asked the doctor.
"No, from skipping."
---
PERK OF BEING OVER 40:
Your supply of brain cells is finally down to manageable size.
---
NOW WHAT?
Three weeks after her wedding day, Joanna called her minister. "Reverend," she wailed, "John and I had a DREADFUL fight!"
"Calm down, my child," said the minister, "it's not half as bad as you think it is. Every marriage has to have its first fight!"
"I know, I know!" said Joanna, "but what am I going to do with the BODY?"
---
PERK OF BEING OVER 40:
Your investment in health insurance is finally beginning to pay off.
---
OH, GOD!
One day, three men were hiking and unexpectedly came upon a large raging, violent river. They needed to get to the other side, but had no idea of how to do so.
The first man prayed to God, saying, "Please God, give me the strength to cross this river." Poof! God gave him big arms and strong legs, and he was able to swim across the river in about two hours, after almost drowning a couple of times.
Seeing this, the second man prayed to God, saying, "Please God, give me the strength .. and the tools .. to cross this river." Poof ! God gave him a rowboat and he was able to row across the river in about an hour, after almost capsizing the boat a couple of times.
The third man had seen how this worked out for the other two, so he also prayed to God saying, "Please God, give! me the strength and the tools …and the intelligence… to cross this river." And poof! God turned him into a woman. She looked at the map, hiked upstream a couple of hundred yards, then walked across the bridge.
---
PERK OF BEING OVER 40:
You sing along with elevator music.
---
RAIL TRAVEL
Old Rudy was on a train, mumbling to himself, smiling, and then raising his hand.
After a moment of silence, he would go through the same process, mumble, smile, raise hand, silence.
Sarah was observing this, and after about an hour, she said, "Pardon me, sir. Is anything wrong?"
"Oh, no," Rudy replied. "It's just that long trips get boring so I tell myself jokes."
"But why, sir," asked Sarah, "Do you keep raising your hand?"
"Well," said Rudy, "That's to interrupt myself because I've heard that one before."
---
PERK OF BEING OVER 40:
You quit trying to hold your stomach in,
no matter who walks into the room.
---
THE DAMNED ART OF FALLING APART
There's quite an art to falling apart
as the years go by,
And life doesn't begin at 40.
That's a big fat lie.
My hair's getting thinner,
my body is not;
The few teeth I have
are beginning to rot.
I smell of Vick's-Vapo-Rub,
not Chanel # 5;
My new pacemaker's
all that keeps me alive.
When asked of my past,
every detail I'll know,
But what was I doing
10 minutes ago?
Well, you get the idea,
what more can I say?
I'm off to read the obituary,
like I do every day;
If my names not there,
I'll once again start –
Perfecting the art
of falling apart.
---
PERK OF BEING OVER 40:
You get into heated arguments about pension plans.
---
DO YOU REMEMBER WHEN?
A computer was something on TV
from a science fiction show
A window was something you hated to clean
And RAM was the cousin of a goat.
MEG was the name of my girlfriend
And GIG was your middle finger upright
Now they all mean different things
And that really MEGA bytes
An application was for employment
A program was a TV show
A cursor used profanity
A keyboard was a piano
Memory was something that you lost with age
A CD was a bank account
And if you unzipped anything in public
You'd be in jail for a while
Log on was adding wood to the fire
Hard drive was a long trip on the road
A mouse pad was where a mouse lived
And a backup happened to your commode
Cut you did with a pocket knife
Paste you did with glue
A web was a spider's home
And a virus was the flu
I guess I'll stick to my pad and paper
And the memory in my head
I hear nobody's been killed in a computer crash
But when it happens they wish they were dead
---
PERK OF BEING OVER 40:
You can eat dinner at 4 P.M.
About
This top-ranked site now has over 4,000 pages of humor, nostalgia, senior advocacy and useful information for seniors 50+. Updates weekly!
The daily e-zine for everyone over 50 who feels way too young to be old.
"...the perfect mix of Andy Rooney, Dave Barry, and Garrison Keilor, combining knee-slapping humor with useful information and genuine compassion."
Retired.com
"Thousands look to and trust Suddenly Senior. Other Websites pale in comparison to the real-life, intimate look into senior lives. What sets apart Suddenly Senior is its blistering honesty and its incomparable encouragement. Millions need guidance."
Suzette Martinez Standring
"Best Senior Site ever on the Web! Great, up-to-date information on how seniors can save money on drugs. Wonderful nostalgia. Hard-hitting senior advocacy pieces that get read in high places. Wonderful humor. It's all at Suddenly Senior."
Alexa.com
KUDOS
Now read by 3.1 million in 83 newspapers from Florida's St. Petersburg Times to the Mumbai, India News.