Art Buchwald died on January 17, 2007, and the number of condolences I received was surprising. In February 2006, I had spent two days in hospice with him back when he was expected to "die at any time" to present the lifetime achievement award on behalf of the National Society of Newspaper Columnists.
My column, written from that front row seat, went viral and it felt like every Buchwald lover in the world read it. (See Archives at http://www.readsuzette.com).
Thus, the barrage of condolences to me, a very new friend, who spent time by Art's side, by gracious courtesy of his daughter Jennifer Buchwald and family.
His recent death reminded me of those 48 hours, which profoundly changed my view of a final exit.
He was the master of Being Present. Only Art Buchwald could make hospice sound like a fun getaway. In one of his Washington Post columns, he wrote, "I'm having the time of my life." I observed his basic answer to the is-there-or-is-there-not-an-afterlife question was, "I'm not sure so I'm not going to worry about it."
While in hospice, Art savored the outpouring of love, attention, gifts, and visits. It was like a cocktail party, but with nurses. Celebrity guests talked up dinner parties they wanted him to attend, and why not? That's how well he seemed back then, holding court, making jokes. It was natural somebody was bound to say, "Dinner two weeks from now, how 'bout it, Art?"
He was very busy dying.
And that meant eating his way to freedom. No diets in hospice. Cholesterol? Fahgetaboutit. I'm on my way out, gimme an éclair. I remembered a go-round with gourmet cannolis. "Go 'head, have one," he said, as he happily tucked into two.
During my visit, a friend of Art's called to announce that when the time came, he'd host the funeral. Art begged off, saying he would talk to his kids. The offer disturbed him, but it set the comical topic of the day.
After that, all conversation with callers and visitors was sparked by Art's opening question, "Can you imagine hijacking somebody's funeral?"
Thousands of columns over five decades, generations of readers, Art is the Patron Saint of Political Satire. Yet he was so self-effacing about his comic genius.
I once asked him why he chose to write humor.
"It's all I've ever done, what else am I qualified to do?" he said.
In his video obituary in The New York Times, recorded while he was still in hospice, Art said, "I was put on earth to make people laugh."
During my two days with him, not once did he ever exhibit fear or voice regrets. Instead, he only focused on the immense gratitude he had for having achieved his life purpose.
I never saw him again after February 2006, although we exchanged occasional emails. He was happy Jennifer and I had become good friends.
His miraculous recovery sent him home from hospice in July 2006. Granted a second act, he wrote about his experiences in his final book, Too Soon To Say Goodbye. His daughter loaned me the book's galley proofs to read. It was hilarious at times, as well as searing and painfully intimate. If you're going to die, it's the book to read. There's nobody better than Art Buchwald to hold your hand, and he wanted to offer that before he left. What a giver.
And now he's gone for real.
When I heard the news of his passing, like millions of others, I felt bereft. Yet if his role modeling taught me anything, it's that love can send you toward the light with a twinkle in your eye.
Our Sponsors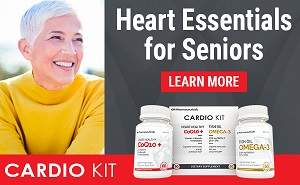 Cardiologist Developed and Recommended
---
Your ad could be here.
About
This top-ranked site now has over 4,000 pages of humor, nostalgia, senior advocacy and useful information for seniors 50+. Updates weekly!
The daily e-zine for everyone over 50 who feels way too young to be old.
"...the perfect mix of Andy Rooney, Dave Barry, and Garrison Keilor, combining knee-slapping humor with useful information and genuine compassion."
Retired.com
"Thousands look to and trust Suddenly Senior. Other Websites pale in comparison to the real-life, intimate look into senior lives. What sets apart Suddenly Senior is its blistering honesty and its incomparable encouragement. Millions need guidance."
Suzette Martinez Standring
"Best Senior Site ever on the Web! Great, up-to-date information on how seniors can save money on drugs. Wonderful nostalgia. Hard-hitting senior advocacy pieces that get read in high places. Wonderful humor. It's all at Suddenly Senior."
Alexa.com
KUDOS
Now read by 3.1 million in 83 newspapers from Florida's St. Petersburg Times to the Mumbai, India News.