One glass of water shuts down midnight hunger pangs for almost 100% of
the dieters studied in a University of Washington study.
Lack of water is the #1 trigger of daytime fatigue.
Preliminary research indicates that 8-10 glasses of water a day could
significantly ease back and joint pain for up to 80% of sufferers.
A mere 2% drop in body water can trigger fuzzy short-term memory, trouble
with basic math, and difficulty focusing on the computer screen or on a
printed page.
Drinking 5 glasses of water daily decreases the risk of colon cancer by
45%, plus it can slash the risk of breast cancer by 79%, and one is 50%
less likely to develop bladder cancer.
Are you drinking the amount of water you should every day?
Of course, too much water may have strange side effects. (See picture
below.)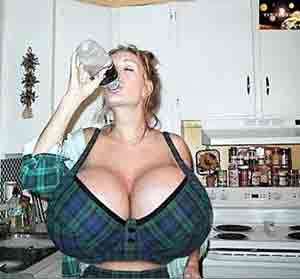 About
This top-ranked site now has over 4,000 pages of humor, nostalgia, senior advocacy and useful information for seniors 50+. Updates weekly!
The daily e-zine for everyone over 50 who feels way too young to be old.
"...the perfect mix of Andy Rooney, Dave Barry, and Garrison Keilor, combining knee-slapping humor with useful information and genuine compassion."
Retired.com
"Thousands look to and trust Suddenly Senior. Other Websites pale in comparison to the real-life, intimate look into senior lives. What sets apart Suddenly Senior is its blistering honesty and its incomparable encouragement. Millions need guidance."
Suzette Martinez Standring
"Best Senior Site ever on the Web! Great, up-to-date information on how seniors can save money on drugs. Wonderful nostalgia. Hard-hitting senior advocacy pieces that get read in high places. Wonderful humor. It's all at Suddenly Senior."
Alexa.com
KUDOS
Now read by 3.1 million in 83 newspapers from Florida's St. Petersburg Times to the Mumbai, India News.