"Americans are overmedicated, over-tested, and over-treated," says retired pharmacist
Medicare cannot negotiate costs. Basic premise of the new Medicare RX bill is to prevent a move towards a National Drug Formulary and control of costs. A Formulary is a predetermined set of Generic drugs with a proven track record that work and are safe.
The drug lobbyists who are paid more than a quarter of a billion dollars each year for their efforts on behalf of the pharmaceutical manufacturers have won again.
Pharmaceutical manufactures learned long ago that you don't make money curing patients.
You make money treating patients' symptoms.
You make money by having a physician make the drug prescribing decision without consultation with the patient as to what the cost will be.
The price you pay is now out of the hands of the user unless the patient demands that a generic be prescribed. Therefore the user will accept the drug because he or she is not paying the exorbitant price directly. You may pay it through your company insurance but it won't hurt as much. Less than 10 percent of the prescriptions dispensed are paid out-of-pocket. There are 40 million Americans who cannot afford the prescription out-of-pocket so they do without.
This decision to prescribe the new expensive drug — in most cases no better than a brand drug that became a generic years ago — is made because the physician has gotten his "Continuing Medical Education" from the medical detail person, otherwise known as a salesman, employed by the manufacturer. This person is trained to put the new wonder drug in the most favorable light and does not give a balanced presentation on the downside of using a drug that in most cases was tested on healthy young people and not the older unhealthy people that will be taking the drug.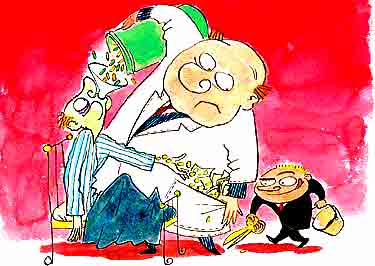 Tip: If you do not want to go to the hospital unexpectedly because of side effects of the new wonder drug that has been prescribed, DEMAND a generic.
The retort by the manufacturer is that the cost of the branded drug is high because of research.
Most of the real research dollars that produced good drugs was paid by the taxpayers thru government dollars paid to academic or government medical research facilities.
Most research dollars spent by drug manufacturers go to create a designer drug to extent the life of a patented drug with an expiring patent as well as any other marketing costs that they can rename research costs.
Brand name manufacturers spent $20 billion dollars on advertising last year. Yet they still are four times as profitable as the average public company. Generics have been around long enough that they are relatively safe.
Remember over 2.2 million hospitalized patients have an adverse drug reaction and it is conservatively estimated that more than 100,000 patients die each year from their adverse drug reactions, prescribed by your physician!
So, what is driving the skyrocketing medical costs?
One major cause is the new drug's side effects that cause hospitalization and big hospital bills. For those who use the Internet, I recommend that you log on to www.bigclassaction.com to discover the many class action law suits being pursued by lawyers against pharmaceutical manufacturers who have caused deadly harm.
The physician has also been taught that you must prescribe a drug when a patient comes in with a complaint. This provides an affirmation to the patient that he did the right thing by coming to the doctor in the first place. In many cases lifestyle changes would fix the problem that the patient has, but then it isn't convenient medicine, just good medicine. To reeducate the patient takes time and the physician doesn't have time..so let's mask the symptoms and everybody walks away happy. Patient, physician, and the pharmaceutical manufacturer.
Most other countries have gone to a National Formulary system with non-patented drugs as the mainstay of the formulary. That is the only way the other countries can contain costs. In 1960, $144 was spent per capita in the US for medical care. Today it is over $5,000 per year and the health of the American people has not improved much. How long before it is $10,000 per capita?
What is wrong with this picture?
The answer is simple. The medical system in this country is broken because no one will stand up and demand that it be fixed. The patients in America are overmedicated, over-tested, and over-treated. Special interests have designed the medical system in this country to make money at the expense of the patient or the third-party payer. If we have enough people in this country beginning shouting maybe we can get it changed.
What can you do?
Demand safe and proven generics as often as possible.
Be proactive. Learn how your body works and develop amore healthy life style.
Write your Congressman and demand action that benefits you — not the special medical interests.
Resign from AARP for their betrayal of your best medical interests.
T. Braun RPh
Senior Citizen Contest
Win Our $1k Grand Prize
Weekly prizes awarded
About
This top-ranked site now has over 4,000 pages of humor, nostalgia, senior advocacy and useful information for seniors 50+. Updates weekly!
The daily e-zine for everyone over 50 who feels way too young to be old.
"...the perfect mix of Andy Rooney, Dave Barry, and Garrison Keilor, combining knee-slapping humor with useful information and genuine compassion."
Retired.com
"Thousands look to and trust Suddenly Senior. Other Websites pale in comparison to the real-life, intimate look into senior lives. What sets apart Suddenly Senior is its blistering honesty and its incomparable encouragement. Millions need guidance."
Suzette Martinez Standring
"Best Senior Site ever on the Web! Great, up-to-date information on how seniors can save money on drugs. Wonderful nostalgia. Hard-hitting senior advocacy pieces that get read in high places. Wonderful humor. It's all at Suddenly Senior."
Alexa.com
KUDOS
Now read by 3.1 million in 83 newspapers from Florida's St. Petersburg Times to the Mumbai, India News.