Travel
Alaska Cruise Tours: Best Alaska Vacations for Seniors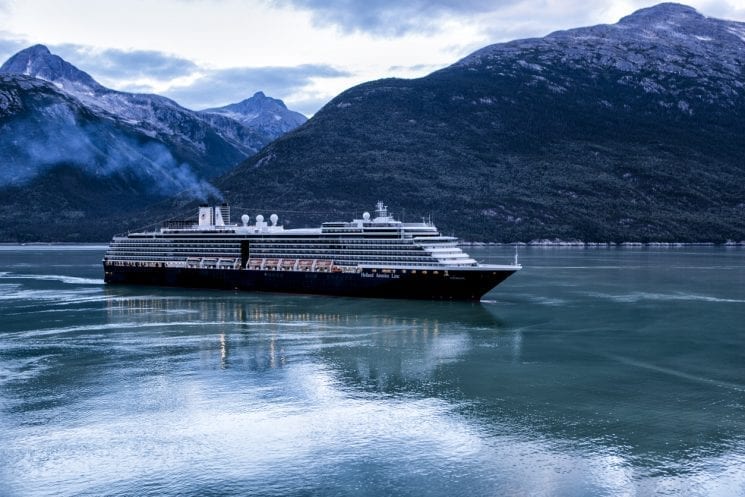 It was our last evening in Alaska. After 12 adventure-filled days of up-close photo encounters with calving glaciers, grizzly bears, moose, singing whales, bald eagles, Dall sheep, and that mellow, neighborly creature known as "The Local," our Celebrity Alaska Cruise tour was already the vacation of a lifetime. Here's the story and our tips for the best Alaska vacations for seniors.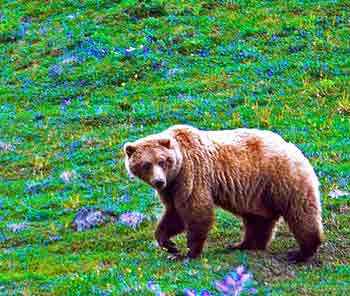 Grizzly bear cub in Denali National Park
At bedtime that last night, with the summer sun still bright in the Anchorage sky, I had but one regret: I'd gotten no photograph of magnificent Mt. McKinley, known locally as Denali – "the high one." Carolyn and I had gazed down on her during what was clearly the most spectacular flight we've ever experienced – from Anchorage to Fairbanks. But I'd had no camera.
Next day, at 5:18 a.m. our bed shuddered. Curtains rattled. Guidebooks fell to the floor.
"Frank! Frank!" Carolyn yelled. "Did you feel the earthquake?"
But I had slept right through what was to be the talk of Anchorage that day. Yawning, I got up and looked out the window.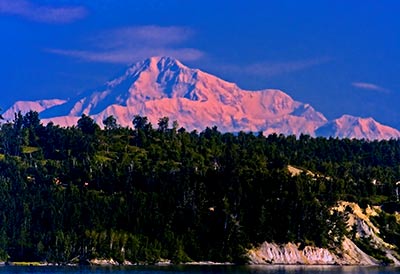 Mt. McKinley aka Denali
A mile taller than California's Mt. Whitney, Denali is 120 miles away from our Anchorage hotel window. It is so grand and majestic, the mountain creates its own weather.
A wonder of wonders, there was Denali across the bay in all its glory, smiling and ready for my 400mm lens.
Not only had Alaska lived up to every superlative promise – remarkable in this age of unredeemed hype and razzmatazz -it threw in an earthquake at no extra cost.
As a dedicated world traveler, the promise of Alaska had never charmed me. Mosquitoes the size of vultures always came to mind. But when reader after reader wrote to us about their unforgettable adventures in our 49th state, we decided to take a look.
Celebrity's Alaskan cruises, much like those of Princess, Holland American and others, combine a traditional seven-day cruise through Alaska's scenic Inside Passage between Vancouver and Seward (near Anchorage), either north to south or vice-versa, with a five-day land "cruise" – ours was by glass-domed, luxury railroad coaches – from Fairbanks through Denali Park to Anchorage.
NEW DISCOVERIES DAILY
Most every day we have abundant free time for whale watching, kayaking, gold mining, sport fishing, glacier ventures by helicopter or floatplane, bike rides or hiking to glaciers, dogsled rides, glacial treks, fly fishing for salmon and trout, salmon bakes, canoeing among icebergs, wildlife cruises, photo safaris, glacier jet-boat expeditions, even canopy explorations by ATVs, not to mention just strolling around town.
And that was just for the first port, Juneau, home to 30,000, and most likely the only capital city in the US without roads in to or out of the city.
Not that there's nothing to do at sea between ports.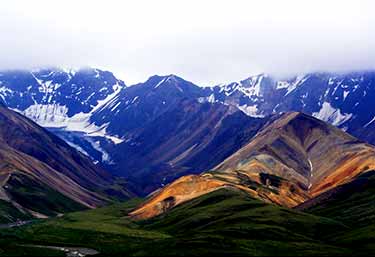 Polychrome mountains, Denali National Park
Besides the usual orgy of cuisine – with its dawn to midnight delights and diet-breaking extravagances – sailing these waters just off the largest temperate rainforest left on earth is much like living surrounded by a very fancy IMAX screen. Whether on the decks taking sun or watching from the privacy of your stateroom's balcony, every view is an eyeful of the picture-perfect postcard.
Unlike the nothing-but-water Caribbean cruises, you're passing an ever-changing panorama of unspoiled beauty. Glacier-carved fjords and primeval virgin forests. Turn around and see eagles, working fishing boats, orcas, and humpback whales.
And it's not like you're rushed.
One morning our ship, Summit, hung out – carefully, as the captain must balance passengers' desire for an up-close view and new career options – within several hundred yards of the 300-foot-high face of the blue and mighty Hubbard Glacier, just north of Skagway.
Surrounded by mini-icebergs, popping and hissing, recently calved to the sound of white thunder off the 90-mile long glacier's face, we watched as the river of ice performed its awesome and unpredictable spectacle using an 18,000-foot high mountain range as the backdrop.
WHILE WHITEWATER RAFTING, HANG ON
Along the way, we made leisurely stops at Juneau, Skagway, Sitka, Seward, and the tiny Tlingit coastal village of Hoonah, Alaska. Russian-influenced Sitka – with its unique architecture, history, beauty and typical Alaskan geniality – by itself is worth the price of the entire trip.
No way can 900 words here describe the abundance of magical moments that made up our 12-day tour. Here are three snapshots: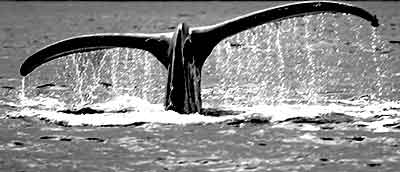 While photographing from a 30-foot inflatable, six huge humpback whales got within mere feet of us, sing-songing squeaky greetings through an underwater mike. Such close-up encounters are not recommended for the faint of smell.
In Denali National Park, a wild place larger than Massachusetts – often called "America's Serengeti," Carolyn thought that she'd lost me as we whitewater rafted for our first time. No paddling required. You simply hang on and enjoy the ride and occasional glimpse of moose and eagle. I'd forgotten the "hang on" part.
Everywhere we saw wildflowers, big as your head during a hangover, and twice as colorful. This is the land of 100-pound cabbages, remember. And with almost 24/7 summer sunshine, everything grows big as the state itself.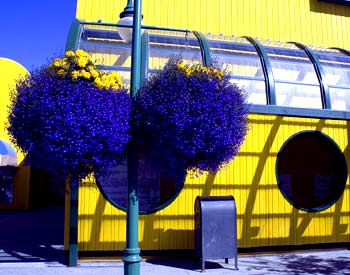 Anchorage in July
Finally, Alaska's people are what make this place truly remarkable. Friendly and open, often quirky, they do everything possible to make you feel welcome and at ease.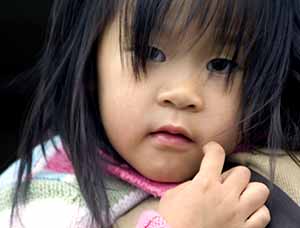 In Talkeetna, the town on which Northern Exposure was based, Carolyn exchanged earrings she was wearing with a stranger. And in Skagway, a young man offered us his home for the winter. No strings attached.
That doesn't happen in my neighborhood.
By the bye, I never was bothered by a mosquito, of any size. But all bets are off if you come in May.
---
If You Go on an Alaska Cruise Tour for Seniors…
Check out our article, Travel for Seniors: Senior Travel Ideas, Mates, Tours, for more travel tips.
Tour Costs:
For the 2007-2008 season from May through September, Celebrity offers a variety of cruise tour options ranging in price from $1,400 to $3,000. Tours can be paired with one of their three ships in Alaska: Infinity, Mercury or Summit. Other cruise lines offer a similar range of prices. Does not include tips, personal expenses, shore excursions, and meals on the land portion of the tour.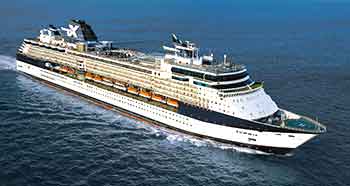 Celebrity's five-year-old Summit
Courtesy of Celebrity Cruises
Getting There:
For early bookings, roundtrip from New York City to Vancouver is as cheap as $483, with most flights around $570. From Chicago to Vancouver, $525. From Los Angeles, $428. Celebrity has an arrangement with the Canadian government so that you can land in Vancouver and board the ship without ever leaving the US. Some trick, huh? Whatever, it eliminates customs hassles.
What to Wear:
Unless you will be taking only the cruise part of the trip, packing a lot of formal wear just limits space for stuff you'll really need. Excursions call for jeans, or chinos, shorts, weather permitting. Remember, only a foot or so beneath your feet is permafrost. Lots of layering is the key, as mornings and evenings can be cold.
A rain repellent jacket is a good idea. Comfortable walking shoes are a must. You will be supplied with the necessary gear on the excursions, but if it's walking on glaciers that you're seeking, remember it's ice!
Dining is casual in all hotels, so jeans are perfectly acceptable. Formal wear is used only on formal nights aboard the ship. Even then, dress clothes fit the bill, although some gentlemen choose tuxedos to match their companion's formal gowns. Check online for temps as you pack and plan accordingly.
Bonus: If you wish, you can stash one of your bags while on the land portion of the tour, never to lift it again until vacation's end. We packed our stored bag with souvenirs and dirty laundry.
Where to Eat:
Onboard ship this is far from a problem. But land meals are on your own. And food, like everything in this place so far from large markets, is expensive. When possible, avoid hotel dining rooms. In Fairbanks, there's a great restaurant right next to the hotel. In Alyeska, walk or get a ride to the Double Muskie or another fine eatery in the area. Try reindeer sausage; delicious, and non-greasy. From Alaska salmon, halibut and crab to sourdough bagels, homemade fudge, and award-winning coffee and beer, your land tour can satisfy even the most discriminating palate.
Toilets:
Those of us of a certain age know that it's not the legs that go first, but the plumbing. This is one tour where you never have to worry about the whereabouts of a clean toilet. They're everywhere. And yes, they flush.
Shopping:
At each port of call or stop along the railroad, amazing shops await you. Everything from the expected touristy stuff to authentic, often unique Native Art. In Sitka, there's a shop where you can purchase a walrus penis, always a tasteful souvenir for your maiden aunt. Note: Many jewelry stores are owned and operated by the cruise companies. If nothing else, pick out that perfect T-shirt for your grandson.
Some of the little craft and food shops are especially delicious, each featuring its most splendid homemade delights. In Talkeetna, be sure to say "Hi" to Laura MacDonald at Berry Delightful inside the "Three German Bachelors Cabin." Since 1989, this lovely grandmother of two has been picking and cooking berries of every kind. Her jams and jellies are scrumptious.
Credit cards are accepted everywhere. You'll find ATM machines, too.
E-mail:
The ship has a large cyber café, rather costly I thought. All the hotels in which we stayed had high-speed Internet connections. You'll find storefront cyber cafés in town, even places to download your digital photo memory cards to CD.

Laundry:
All hotels provide laundry and dry cleaning services and some have laundry facilities for guest use. Irons and ironing boards are provided throughout the tour.
Documentation:
US citizens need valid passports.
Staying Longer:
If you've never been to Vancouver, consider spending an extra day or two visiting this most cosmopolitan city and Vancouver Island, a ferry ride away.
About
This top-ranked site now has over 4,000 pages of humor, nostalgia, senior advocacy and useful information for seniors 50+. Updates weekly!
The daily e-zine for everyone over 50 who feels way too young to be old.
"...the perfect mix of Andy Rooney, Dave Barry, and Garrison Keilor, combining knee-slapping humor with useful information and genuine compassion."
Retired.com
"Thousands look to and trust Suddenly Senior. Other Websites pale in comparison to the real-life, intimate look into senior lives. What sets apart Suddenly Senior is its blistering honesty and its incomparable encouragement. Millions need guidance."
Suzette Martinez Standring
"Best Senior Site ever on the Web! Great, up-to-date information on how seniors can save money on drugs. Wonderful nostalgia. Hard-hitting senior advocacy pieces that get read in high places. Wonderful humor. It's all at Suddenly Senior."
Alexa.com
KUDOS
Now read by 3.1 million in 83 newspapers from Florida's St. Petersburg Times to the Mumbai, India News.