The FDA, NIH, or the manufacturers of drugs feel they have no duty to warn of the potential danger of overdosing on these drugs.
Recently, 7,000 Pharmacists gathered in Atlanta, Georgia at the annual American Pharmacists Association meeting to discuss professional issues. A paper was presented that was published by the Institute of Medicine that highlighted the top 10 drugs both Rx and OTC (sold without a prescription) that are the cause of medication errors.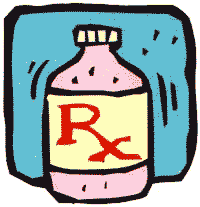 The study indicated that 40 percent of the medication errors are due to overdosing in both the home and the hospital. On both lists the drug acetaminophen (Tylenol being the number one brand) appeared in the top 10. Nsaids did not except for aspirin and ibuprofen which appeared on the list of medication consumed outside the hospital.
In an earlier article, I had mentioned that over half of all liver transplants (3,300 per year) are caused by overdosing onacetaminophen. In addition, the FDA recognizes that 400 people die each year from acetaminophen overdosing. Many thousands are hospitalized and recover. In actuality, since the FDA receives only about 5 percent of the reported incidents, the true number of deaths can easily be projected to be around 8,000 deaths.
The report goes on to say that Nsaids (non-steroidal anti-inflammatory drugs) misuse account for over 103,000 hospitalizations per year and 16,000 deaths. These estimates are conservative in my opinion since the majority of incidents go unreported. It is estimated that about 30 million Americans take Nsaids for arthritis and seniors are the main users.
The problem is that there are 19 different chemicals of Rx Nsaids and more than a dozen OTC brands. At the end of the article is a list of both. As a class of drugs, they cause more harm that acetaminophen.
My lament is that the FDA, NIH, or the manufacturers of drugs feel they have no duty to warn of the potential danger of overdosing on these drugs.
The accepted wisdom is that the user has to read the label and follow the directions. He or she is alone responsible for the medical crisis.
I guess the old adage "If one is good, two is better" comes into play here. Consequently, the FDA, NIH, and the manufacturer feel absolved of any responsibility. Let's not consider the fact that the type size on the ingredient label is often too small to be read by seniors and that the same drug is in multiple different brands for different medical conditions, which is another reason that so many are hospitalized and die needlessly.
You may recall that Tylenol comes in 67 different packages for treatment of pain, sleep disorders or colds on an OTC basis.
The tragic recent death of a young woman who overdosed on a topical analgesic sports cream re-emphasizes the need to read the label of all OTC drugs before taking them and not exceeding the recommended usage.
In addition, Rx directions should be followed faithfully and your physician should be aware of any OTC drug you are taking, to avoid innocently overdosing by taking the same or similar drug in the OTC form.
Nsaids both Rx and OTC should be taken with food for safety to avoid the possibility of upset stomach, peptic ulcer and GI bleeding. In some incidents, allergic reactions occur that are as mild as a skin rash, itching and as severe as anaphylactic shock that in some cases results in death. In addition, overdosing on Nsaids can cause depletion of essential electrolytes in the body which in turn can cause heart problems.
It can not be emphasized too much that over dosing on these medications by not following the directions or by unknowingly taking multiple drugs with the same ingredient has to be avoided.
We can't count on the FDA to prevent the confusing proliferation of the same drug being in multiple products for different medical conditions. Consequently read the labels and seek help in understanding your medication regimen. The pharmacist and the physician have a duty to help, even if our government and out manufacturers feel they are not duty bound to warn.
COX-2 Selective NSAIDs
Celebrex
Non-selective NSAIDs
Cataflam, Voltaren, Arthrotec (combination with misoprostol)
Dolobid
Lodine, Lodine XL
Nalfon, Nalfon 200
Ansaid
(Ibuprofen**) Motrin, Motrin IB, Motrin Migraine Pain, Advil, Advil Migraine Liqui-gels, Ibu-Tab 200, Medipren, Cap-Profen, Tab-Profen, Profen, Ibuprohm, Children's Elixsure *, Vicoprofen (combination with hydrocodone), Combunox (combination with oxycodone)
Indocin, Indocin SR, Indo-Lemmon, Indomethegan
(Ketoprofen**) Oruvail, Orudis, Actron
Toradol
Ponstel
Mobic
Relafen
(Naproxen**) Aleve, Naprosyn, Anaprox, Anaprox DS, EC-Naproxyn, Naprelan, Naprapac (copackaged with lansoprazole)
Daypro
Feldene
Disalcid
Clinoril
Tolectin, Tolectin DS, Tolectin 600
*There are many OTC Combinations with ibuprofen: Advil Cold And Sinus, Advil Cold, Advil Allergy Sinus, Children's Advil Allergy Sinus, Ibuprohm Cold and Sinus, Sine-Aid IB, Children's Motrin Cold.
**There are over-the-counter versions of these prescription medications.
T. Braun, Pharmacist, Buyer, Marketing Executive for a Major Drug Chain. Active for over 45 years in Pharmacy.
Legal Stuff: Permission is granted to all to reproduce this document in whole and redistribute to all that are as concerned as I about the future of our Medical system that has so many superior attributes that is operating under needless dark clouds of distress.
Disclaimer – This document is informational in nature. Medical advice should be secured through your physician.
About
This top-ranked site now has over 4,000 pages of humor, nostalgia, senior advocacy and useful information for seniors 50+. Updates weekly!
The daily e-zine for everyone over 50 who feels way too young to be old.
"...the perfect mix of Andy Rooney, Dave Barry, and Garrison Keilor, combining knee-slapping humor with useful information and genuine compassion."
Retired.com
"Thousands look to and trust Suddenly Senior. Other Websites pale in comparison to the real-life, intimate look into senior lives. What sets apart Suddenly Senior is its blistering honesty and its incomparable encouragement. Millions need guidance."
Suzette Martinez Standring
"Best Senior Site ever on the Web! Great, up-to-date information on how seniors can save money on drugs. Wonderful nostalgia. Hard-hitting senior advocacy pieces that get read in high places. Wonderful humor. It's all at Suddenly Senior."
Alexa.com
KUDOS
Now read by 3.1 million in 83 newspapers from Florida's St. Petersburg Times to the Mumbai, India News.