Humor
25 Signs You Have Grown Old
YOU MIGHT AS WELL ADMIT IT
Your houseplants are alive, and you can't smoke any of them.
Having sex in a twin bed is out of the question.
You keep more food than beer in the fridge.
6:00 AM is when you get up, not when you go to bed.
You hear your favorite song in an elevator.
You watch the Weather Channel.
Your friends marry and divorce instead of "hook up" and "break up."
You go from 130 days of vacation time to 14.
Jeans and a sweater no longer qualify as "dressed up."
You're the one calling the police because those %&@# kids next door
won't turn down the stereo.
Older relatives feel comfortable telling sex jokes around you.
You don't know what time Taco Bell closes anymore.
Your car insurance goes down and your car payments go up.
You feed your dog Science Diet instead of McDonald's leftovers.
Sleeping on the couch makes your back hurt.
You take naps sometime between noon to 6 PM!
Dinner and a movie is the whole date instead of the beginning of one.
Eating a basket of chicken wings at 3 AM would severely upset, rather
than settle, your stomach.
If you're a gal, you go to the drug store for ibuprofen and antacid, not
condoms and pregnancy tests.
A $4.00 bottle of wine is no longer "pretty good stuff."
You actually eat breakfast food at breakfast time.
"I just can't drink the way I used to" replaces "I'm never going to drink that much again."
90% of the time you spend in front of a computer is for real work.
You drink at home to save money before going to a bar.
You read this entire list looking desperately for one sign that doesn't apply to you and can't find one to save your sorry old butt.
Sponsored Links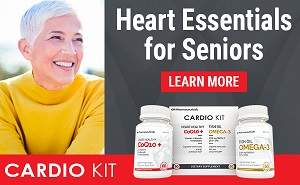 Cardiologist Developed and Recommended
---
Your link could be here.
About
This top-ranked site now has over 4,000 pages of humor, nostalgia, senior advocacy and useful information for seniors 50+. Updates weekly!
The daily e-zine for everyone over 50 who feels way too young to be old.
"...the perfect mix of Andy Rooney, Dave Barry, and Garrison Keilor, combining knee-slapping humor with useful information and genuine compassion."
Retired.com
"Thousands look to and trust Suddenly Senior. Other Websites pale in comparison to the real-life, intimate look into senior lives. What sets apart Suddenly Senior is its blistering honesty and its incomparable encouragement. Millions need guidance."
Suzette Martinez Standring
"Best Senior Site ever on the Web! Great, up-to-date information on how seniors can save money on drugs. Wonderful nostalgia. Hard-hitting senior advocacy pieces that get read in high places. Wonderful humor. It's all at Suddenly Senior."
Alexa.com
KUDOS
Now read by 3.1 million in 83 newspapers from Florida's St. Petersburg Times to the Mumbai, India News.