We're back.
Thanks in great part to your compassionate thoughts and prayers, after a year almost to the day, Carolyn and I are just now out from under the likely death sentence that is cancer.
Death sentence? A bit dramatic, isn't it?
Much depends on how much you love life. A year ago, Carolyn fought bravely for hers as she underwent a stem cell transplant to arrest her newfound multiple myeloma cancer.
"Have the death-defying transplant or never see 2009." That's what doctors concluded.
I remember the time well. I had a heart attack that weekend.
And as regular Suddenly Senior readers know, it's been going like that for us pretty much ever since.
My cancer was diagnosed last October. It, too, is Stage IV — terminal.
Frank and Carolyn, April 2009 >>
I also had a choice. Undergo immediate surgery and extensive chemo and radiation and live maybe a year. Or die in 16 to 20 days.
Talk about a no-brainer! Yet some advised me to give up; that chemo was worse than death itself.
T'ain't true. Turns out today's advanced technology eliminates much of the pain and suffering associated with the treatment of cancer.
Shaping Up
For Carolyn and me, every additional day we're alive is a gift. A miracle, really. Around us, all life grows more sacred. As does our love for one another.
We've each lost 50 pounds in this struggle. [See photo.] We go to bed early now.
Today Carolyn suffers a new and distressing foe, encondroma, a cartilaginous tumor within her right hip. Doctors predicted months ago that severe pain would eventually overwhelm her. That's now happening. Surgery and rehabilitation will follow. Meanwhile, no skate boarding or bungee jumping allowed.
The good news? Carolyn's cancer is in partial remission.
And once my oncologist figured out that my rare and incurable bladder cancer is more like a common small-cell lung cancer, under my current therapy of chemo and daily radiation, he now predicts a 20 percent chance of remission.
A presidential pardon couldn't have been sweeter. A bit of a long shot, perhaps. But hope is once again part of the plan.
So, beginning today, with some help from our friends, Suddenly Senior is starting anew. Chemo brains and all.
Each is distributed by e-mail to about 40,000 readers, and via SuddenlySenior.com to hundreds of thousands in 179 countries worldwide. (Not to mention column distribution in up to 83 newspapers syndicating the column every week.)
It's a big job.
Smart and Funny
Still, treatment renders us feeble; there are days we seldom leave our bed.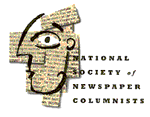 So we've asked members of the National Society of Newspaper Columnists to help out. Over 30 of these exceptional journalists — top columnists all for newspapers across the country — have pitched in with columns especially for Suddenly Seniors.
When you don't hear from Carolyn or me you'll be hearing from someone really smart and funny.
Again, with help from good friends, we plan to expand SuddenlySenior.com to include more features our readers have requested over the years including a bulletin board where you can exchange ideas, information, and hope.
And truth.
That's why Suddenly Senior started in the first place: to tell the truth about getting old — nose hairs, comb-overs, health crises and all. Nobody was doing that in 1999! I don't know that anyone but Suddenly Senior is doing it today.
I mentioned that we bed early. Truth. We turn on our sweet-sounds music channel and lie in each other's arms. Every night for most of this past year we've given each other sweet, lengthy massages, soothing away the rigors of the day. Most evenings we make love.
Tonight we will be closer and more in love than ever before.
How can this be?
Perhaps the deep and often nagging knowledge that we will not always have this wondrous life. Death will out, after all. But not without a hell of a fight from each of us.
We fall asleep, cuddling, and wake in the morning, laughing to note that we're still above ground. We give thanks accordingly.
Copyright © 2009 – Frank Kaiser
---
Comment on this week's Suddenly Senior.
Write to Frank at frank@suddenlysenior.com
READ READER RESPONSES TO RECENT COLUMNS HERE
---
GET SUDDENLY SENIOR EVERY FRIDAY. SIMPLY
SEND A BLANK E-MAIL TO GET-SS@SUDDENLYSENIOR.COM
TO CANCEL YOUR FREE SUDDENLY SENIOR E-MAIL,
SEND A BLANK E-MAIL TO REMOVE-SSLIST@SUDDENLYSENIOR.COM
---
Relatively Recent Suddenly Senior Columns...
ASTOUNDING NEWS!
SENIORS ENJOY HOT SEX!
WHERE 15 MINUTES used to be more than adequate, now we make love for an hour or more. And get this: Neither of us has ever been more climactic. Here's yet another reason to welcome aging. READ FULL STORY HERE


HERE WE GO, AGAIN
Carolyn's turn to bring you up to date. "I love putting the weekly jokes together for you, and starting last Sunday, the week's best jokes are again winging their way to you weekly: The Sunday Funnies, courtesy of a friend who loves to laugh. READ FULL STORY HERE


AND THE FAT LADY NEVER SANG
"I don't remember exactly when this first occurred to me, but I knew I was going to die. And soon." Kaiser gets Stage IV cancer and lives to laugh about it. READ FULL STORY HERE
---
GET UP-TO-THE-MINUTE NEWS EVERY DAY ABOUT MEDICARE, SOCIAL SECURITY AND OTHER IMPORTANT SENIOR NEWS. FREE! SIMPLY SEND A BLANK E-MAIL TO
GET-RXNEWS@SUDDENLYSENIOR.COM.
---
Suddenly Senior is now read by 3.1 million seniors at Websites and 83 newspapers from the St. Petersburg Times to the Mumbai India News. CLICK FOR MORE INFO
---
AT SUDDENLY SENIOR THIS WEEK
GRAMPS DOING IT! Suddenly Senior's take on senior sex
JOYS OF GETTING OLDER It's not all downhill. Here's proof!

SENIOR ISSUES Medicare, Social Security, stuff you need to know

UNDER THE KNIFE Personal stories on everything from face lifts to cataract surgery

ONLY IN FLORIDA From hurricanes to horny teachers, the rules are different down here

SENIOR NOSTALGIA Remember? Dating in the '50s and other lies

SENIOR TRIVIA Are you "older than dirt?" Take these quizzes
---
THIS WEEK'S BEST SENIOR CARTOON
---
THIS WEEK'S BEST 222 SENIOR SITES
http://www.suddenlysenior.com/links.shtml
- - - - - - - - - - - - - - - - - - - - - - - - -
THE BEST OF SENIOR SEX
http://www.suddenlysenior.com/sexpage.html
- - - - - - - - - - - - - - - - - - - - - - - - - -
SEE THE BEST SENIOR NOSTALGIA ANYWHERE, http://www.suddenlysenior.com/nostalgiapage.html
- - - - - - - - - - - - - - - - - - - - - - - - - -
SEE THE BEST SENIOR TRIVIA ANYWHERE, http://www.suddenlysenior.com/triviapage.html
---
Frank Kaiser frank@suddenlysenior.com
http://www.suddenlysenior.com/
Suddenly Senior is the internationally syndicated column read by 3.1-million over age 50 in 179 countries who've become senior before their time.
Get suddenly senior every Friday. Simply send a blank e-mail to get-ss@suddenlysenior.com. To cancel your free suddenly senior e-mail, send a blank e-mail to remove-sslist@suddenlysenior.com.