By Susan Pierres
Guest Columnist

LESSONS I SHOULD HAVE LEARNED FROM MY MOTHER

"As is the mother, so is her daughter."
-- Ezekiel 16:44
But not always. Most daughters rave about the lessons they proudly learned from their mothers. But in my case, I need to admit to all the lessons my mother tried desperately to teach me by her example - which I refused to learn.
Not that it was a conscious refusal. It has been suggested that somewhere buried in my subconscious is a teenaged rebellion so strong it may have prevented me from "being like my mother." Whatever the case, as a senior, I am now consciously trying my hardest to learn from my 95-year-old mom those noble qualities I have finally come to appreciate.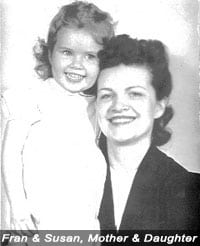 This is not to say that I have not inherited or learned anything worth listing, but the Not Learned list is far longer. And here I should mention that as a child I adored my mother, envied her small waistline, and appreciated her kindness, her generosity, and her not yet overpowering motherly love.
CHANGING HORMONES (MINE OR HERS?)
But as a teenager, probably owing to changing hormones, I suddenly discovered that my beloved mom was wrong about everything. She didn't agree with my fashion sense, my choice of music, of boyfriends, or my late night hours. (She never believed that we were discussing philosophy and the meaning of life, too important a subject to interrupt at 2 AM.)
We fought constantly, yet people would comment on how alike we were! I will never be like my mother, I thought, and I couldn't understand why all the kids liked her. How could they! I wished she were more like Sherrie's mom, so easy to talk to, who allowed her far more freedom. Or Judy's, who'd already been there done that with Judy's older siblings. Or even Mom's own mother, dear Grandma, who always seemed to take my side. (Mom claimed she didn't understand English well enough, as she was from Lithuania.) My favorite lines were "you'll never understand" and "I didn't ask to be born!"
THE MOVE UP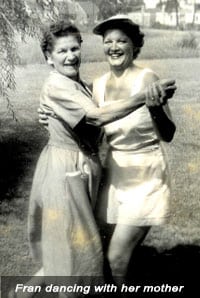 We had just moved up from the south side of Chicago to suburban Park Ridge, the heart of middle-class America, also home of Suddenly Senior founding editor Frank Kaiser, as well as other notables such as Hillary Clinton and Harrison Ford. Perhaps because we were new there, Mom seemed overly concerned with what the neighbors might think, while I decried everything conventional.
I remember one evening arriving home to find my parents entertaining a few of our new neighbors. As I entered the living room I heard one of them use the "N" word, stating that he hoped such people would never move into our all-white Christian community and "lower our property values." In a fit of fury and outrage, instead of greeting these guests, I mumbled something extremely rude regarding equality and civil rights, stormed past them to my room, and slammed the door.
Perhaps I should mention that Park Ridge, Illinois, was and is a very conservative town - Hillary Rodham Clinton would not be welcome there today. The next morning I fully expected to be severely chastised and punished, probably grounded. To make matters worse, by the time I took my seat at the breakfast table, Dad had already left for work. Not good - he was the more reasonable of the two.
A LESSON LEARNED
Mother's face was drawn, but mercifully not scrunched (as it would be if she were really angry). She poured herself a cup of coffee and sat down. I don't remember her exact words, but in a calm voice she said that while she and Dad agreed with me in principle, and were glad I shared their values, they would not have me insulting guests in the house. Period. It should never happen again. So I guess you could say this was a lesson learned, and I was grateful.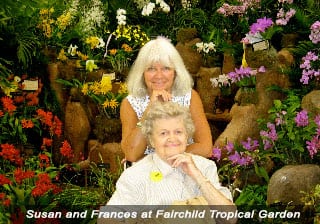 Since then Mom has been twice widowed, survived cancer, and lost numerous friends, while I was splitting my time between Europe and the Caribbean, visiting from time to time, always worried about her being alone. Finally, in 1995 after 30 years out of the country, I found a place warm and cosmopolitan enough to suit me here and made the move to Miami.
MOM'S MOVE DOWN
Four years later, following several winter visits from Mom, I was finally able to convince her to abandon the Midwest and join me here at the gateway to Latin America. At the time I wasn't really sure how she would adapt to this subtropical multi-ethnic culture, but she will readily confirm she is no longer a prefer-the-four-seasons person, and has even developed a taste for papaya and empanadas.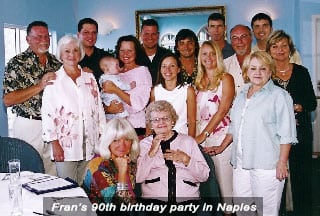 Granted, we have the perfect arrangement for a mother/daughter team, each fixed in her ways as a result of living many years alone: We live in the same building, each with her own space in her own condo, and hang out whenever we both feel like it. We have had time to discover each other in ways previously colored by my growing pains, leftover from the rebel years and the odd holiday visit.
BEST FRIENDS FOREVER
We have become best friends and confidantes, often giggling like a couple of schoolgirls, convinced that our shared laughter has kept her vibrant these past years. It has also helped me uncover the real meaning of life.
And now I am feverishly trying to learn from her all the lessons I should have picked up but didn't back when she was trying to survive my adolescent years. Here's the list:

Be neat
Be punctual
Make lists
Be polite (never rudely speak your mind, even if you know you're right)
Be positive (put on a cheery face or don't go out)
Never complain about your aches and pains
Always offer anyone who enters - workers included - something to eat or drink
Let everyone help themselves first - if there aren't enough pieces of cake, pretend you don't like it
Save coupons
Always bring a plastic bag to restaurants
Okay, okay - I ran out of time. (The list is much longer, but that's it for now.)
HAPPY MOTHER'S DAY!

When asked to what she owes her longevity, Mom usually replies "onions and martinis - not in that order."
---
Susan Pierres is an internationally published Miami-based writer/photographer specializing in travel, food, conservation, and health. Long a contributing editor of Caribbean Travel & Life, Pan Am Clipper, and Birnbaum Travel Guides to Italy and the Caribbean, she covered those regions extensively from former bases in Rome, London, and Anguilla. Her credits span the globe from Italy to Australia, including major newspapers, magazines such as Town & Country, National Geographic Traveler, Islands, People, and most recently Conde Nast's concierge.com. In a former life she also worked aboard legendary Lindblad adventure cruise ships in Africa, Europe, and Indonesia, as a researcher for the Los Angeles Times Rome and London bureaus, and in the publicity offices of feature film locations from Cyprus to Ireland. She has visited some 180 countries around the world. Send your comments to: susan.pierres@suddenlysenior.com
Copyright © 2010 – Susan Pierres
---
WANT TO COMMENT ON THIS WEEK'S SUDDENLY SENIOR COLUMN?
FRANK@SUDDENLYSENIOR.COM
GET SUDDENLY SENIOR EVERY WEEK. SIMPLY
SEND A BLANK E-MAIL TO GET-SS@SUDDENLYSENIOR.COM
TO CANCEL YOUR FREE SUDDENLY SENIOR E-MAIL,
SEND A BLANK E-MAIL TO REMOVE-SSLIST@SUDDENLYSENIOR.COM
---
---
LATEST GUEST COLUMNS!
From Dave Whitney

Obamacare - You're Going to Love it

It's Getting Lonely Under the Bus
The latest columns from our resident (retired) Drug Pusher, Tom Braun...

Value of Vitamin D
From Susan Pierres, Writer/Photographer:

Crossing the Pond

My 15 Minutes of Fame as the Poster Girl for Menopause
From Joan Price:

Satisfying Senior Sex for Women, Too!
Book Review: Autumn Romance: Stories and Portraits of Love after 50
---
Comment on this week's Suddenly Senior.
Write to Frank at frank@suddenlysenior.com
---
"THE KAISER'S JOURNEY
THROUGH CANCER"
A very personal look at the Kaiser's Health
Frank and Carolyn Kaiser have been to hell and back this last year, healthwise. But you can't keep a good man - or woman - down, as they say. They're very much alive and kicking - just kicking a little more slowly and carefully. [Ed]

CLICK FOR MORE INFO ON THE KAISER'S JOURNEY THROUGH CANCER
---
RECENT GUEST COLUMNS
FEATURED GUEST COLUMNS BY OUR
FRIENDS AT SUDDENLY SENIOR
It's Getting Lonely Under The Bus
You know folks; it's getting lonely under the bus these days. After Congress threw us geezers under the bus by denying us any increase in our Social Security payments, this year I figured we might have a few of them to share the space with us, since they claimed they were doing the same by not taking the automatic pay raise they have handed themselves year in and year out.

As a young boy, I watched the Queen Elizabeth 2 being built on the River Clyde in Scotland, one of the last great ships to be built there. This week's story by Travel Editor Susan Pierres evokes the (almost) bygone age of ocean steamer crossings, as she tells of the joys of crossing the pond and back aboard the QE2. "Crossing takes us back to the truly civilized world of yesteryear, to an era of gracious lethargy, to courtly manners and conversation, to a sublime sense of peace and calm." [Ed.]

As Valentines day comes around once more, thoughts may turn to our love life ... or lack of it. Especially if you are on your own, through separation, divorce, death of a partner, or if you've always been single. Facing the prospect of growing old alone, with children grown up and gone, men and women are turning to online dating in the hope of meeting their perfect match.
What a quaint concept! In this day of almost $3-a-gallon gas, imagine getting actual service, too. Today, it's as bizarre a notion to anyone under 40 as a gentleman's tipping his hat to a lady. About 40 years ago, both were part of everyday life in America.

---
Are you Single and Looking?
Good news!
Introducing SuddenlySeniorDating.com
An online dating Websites where Seniors can meet their match!
Free to join!
---
Now read by 3.1 million seniors at Websites and 85 newspapers from the St. Petersburg Times to the Mumbai India News.
CLICK FOR MORE INFO
---
BE SURE TO CHECK OUT THE HELPFUL LINKS BELOW
---
PLANNING YOUR VACATION FOR 2010?
ACCORDING TO GOOGLE, SUDDENLY SENIOR'S TRAVEL PAGE IS AMONG THE MOST POPULAR IN THE WORLD. SEE WHY HERE!
---
THIS WEEK'S BEST SENIOR CARTOON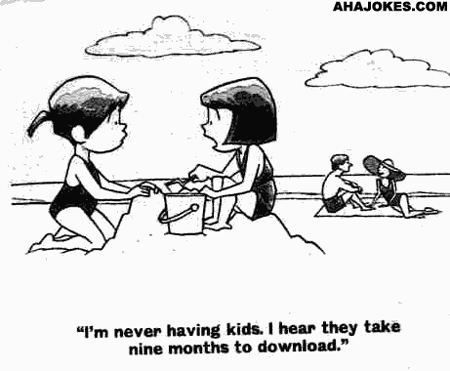 Want to comment on this week's Suddenly Senior column?
Click here!
---
THIS WEEK'S BEST 222 SENIOR SITES
http://www.suddenlysenior.com/links.shtml
- - - - - - - - - - - - - - - - - - - - - - - - -
THE BEST OF SENIOR SEX
http://www.suddenlysenior.com/sexpage.html
- - - - - - - - - - - - - - - - - - - - - - - - - -
SEE THE BEST SENIOR NOSTALGIA ANYWHERE,
http://www.suddenlysenior.com/nostalgiapage.html
- - - - - - - - - - - - - - - - - - - - - - - - - -
SEE THE BEST SENIOR TRIVIA ANYWHERE,
http://www.suddenlysenior.com/triviapage.html
---
Frank Kaiser frank@suddenlysenior.com
http://www.suddenlysenior.com/
Suddenly Senior — the nationally syndicated column read by 3.1-million over age 50 in 176 countries who've become senior way before their time.
Get suddenly senior every Friday. Simply send a blank e-mail to get-ss@suddenlysenior.com. To cancel your free suddenly senior e-mail, send a blank e-mail to remove-sslist@suddenlysenior.com.