Mary will be 91 years old by the time you read this.
As you can see from my photo, she wears those years well. There is perhaps nothing more lovely than a woman of this certain age, cheerful and bright with life.

Mary's my neighbor. Older than most, she reminds us of h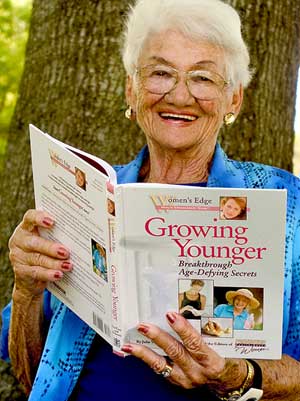 ow sweet life should be — can be — as we age.

Petite, with a generous smile and pure heart, Mary confirms life can be most beautiful at its sunset.

Born in Poland, Mary was but two when her mother died.

The youngest of four small children, she held tight her sisters' coattails as her dad, new mom and grandmother hustled through Ellis Island, fleeing the war-torn Europe of 1919.

In Chicago's Jewish-Polish enclave, Mary flourished. She swam, learned Hebrew and English, graduated high school at 16.

Then, just as America was losing hope under The Great Depression, Mary found love at the deep end of the Jewish People's Institute swimming pool. Bernie Lyon, a young Glaswegian eight years her senior wooed and won Mary in marriage. His steady job at Metropolitan Life won a favorable impression from her father.

At age 18 she welcomed their first child, Annabel, now married nearly 50 years herself.

And when Bernie was drafted into the Army at age 38, Mary assumed his responsibilities at Met Life. For two years, each evening after tucking in her children, she made sales calls, occasionally outselling all the men in her district. "It was the bravest thing I ever did," Mary recalls.

Bernie came home. The children grew up and had children of their own.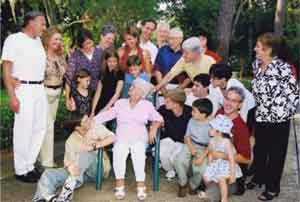 Eighteen grandchildren attended Mary's 90th birthday party last year.

Bernie died on their 69th wedding anniversary. Mary says she still feels his presence every day.

By any account, this woman has led a full and remarkable life. She still travels the country visiting her offspring. She's in touch daily with many of her grandchildren through the Internet and Instant Messaging. She swims, she mah-jonggs. She e-mails me jokes.

This lovely, tiny woman, barely five feet tall, who says, "I've never felt that short," towers above us all.

I've never heard Mary say a wicked word about anyone.

When I asked about the worse aspect of aging, Mary replied, "I don't see any 'worst.' I'm not blind. I just see things in a different light."

Her light shines brightest in her compassion for all people. "One thing about being nice to everyone," Mary grins, "it blows them away!"

Quotes from the Book of Mary:
You stay young by smiling, by doing the best you can do, by never living by another's' standards, and by turning mountains into molehills.


Never say ill of anyone. It just makes someone miserable.


Always turn the other cheek.


Take the best parts of life and go with them.
Mary's one complaint is that some treat her as a senile old lady. "They don't know that I'm not old," she fusses. "I hate it when the airport security people speak to me like I'm a child."

Mary's true love is her family. It is her life, her greatest gift in every sense. So when 15-year-old grandson Bryce wrote her the following, it ended up framed on her already-crowded wall.
"I am just so glad that I had the wonderful pleasure of having such a special human being in my life. You really make a difference, as someone I can talk to and have a good time with. You always know how to have a good time and keep people happy. Your spirit has never broken, and I keep you as an inspiration in my heart to strengthen my spirit and character."
Right on, Bryce. Your grandmother is an inspiration to us all.

Of all those I know and love, I most want to be like Mary when I grow up.

---
Want to comment on this week's Suddenly Senior column? Click here!
---
WANT TO GET SUDDENLY SENIOR WITHOUT FAIL IN YOUR E-MAIL? CLICK HERE
---
Send this column to like-minded friends. Simply "Redirect" under "Messsage"; forward; or copy, then paste it into an e-mail.
---
JOIN OTHER SUDDENLY SENIORS THIS WEEK!
THE SUDDENLY SENIOR FORUM NOW HAS ABOUT 4700 ARTICLES BY 221 REGISTERED SUDDENLY SENIOR USERS.
EXPRESS YOUR OPINIONS. MEET FOLKS. THE PLACE TO LET IT ALL HANG OUT? AT http://www.pillscanada.com/seniors/
---
See a list and summaries of all recent Suddenly Senior columns. Click http://www.suddenlysenior.com/columnlist.html
---
Read "The Face in the Mirror," this week's special treat by a Suddenly Senior reader for Suddenly Senior readers...New York Times contributor, Sally Friedman, writes a charming column for any Suddenly Senior reader of a certain age who has ever been lost in an unsatisfactory job. At http://www.suddenlysenior.com/sallyfriedman.html
LOOKING FOR WORK? SEE BRAND NEW JULY, 2004, HINTS, TIPS AND 135 SITES WITH INFORMATION ON PLACES THAT VALUE SENIORS — AT SUDDENLY SENIOR'S "222 BEST SENIOR LINKS." http://www.suddenlysenior.com/links.html
- - - - - - - - - - - - - - - - - - - - - - - - - -

THE BEST OF SENIOR SEX
http://www.suddenlysenior.com/sexpage.html
- - - - - - - - - - - - - - - - - - - - - - - - - -
SEE THE BEST SENIOR NOSTALGIA ANYWHERE, http://www.suddenlysenior.com/nostalgiapage.html
- - - - - - - - - - - - - - - - - - - - - - - - - -
SEE THE BEST SENIOR TRIVIA ANYWHERE, http://www.suddenlysenior.com/triviapage.html

---
Want to get "Monday's Best Jokes" e-mailed every week? Send blank e-mail to get-jokes@suddenlysenior.com
To get the Suddenly Senior column, absolutely free, send blank e-mail to Get-ss@suddenlysenior.com
NEW! Get the latest Medicare and Canadian drug store news e-mailed almost every day, send blank e-mail to Get-rxnews@suddenlysenior.com
To unsubscribe to the Suddenly Senior column, send a blank e-mail to Remove-ss@suddenlysenior.com
To unsubscribe to "Monday's Best Jokes, send a blank e-mail to Remove-jokes@suddenlysenior.com
See past "Best Jokes of the Week." Millions of laughs!
---