SUDDENLY SENIOR'S
JOYS OF GETTING OLDER
Boomers often ask what it's like to be retired. I tell them I haven't a clue. I do know their starry-eyed version of retirement is but the sly and smirking propaganda of bank retirement funds and private money managers. Learn the secret of a graceful retirement.
We don't gamble. We're too old to carouse. What else is there to do in Los Vegas? You get married! Some are first marriages. For us, weddings numbers eight and nine. Read all about one of better weddings here!
It's never too early to begin thinking about what you want people to read about you into perpetuity. Yet most of us give more thought to our choice of screensavers than our epitaph. Here are some tips and examples, good and bad, to help you choose how people will think of you 200 years down the road.
Will your obituary be your final whimper or your last hurrah? Write your own obit. Read how. Mine will begin, "Shot to death yesterday by a jealous husband, 101-year-old Frank Kaiser…"
A Geezer's Wish List For Santa!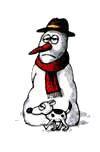 What do you want for Christmas? How about a clock that tracks "senior time," a clapper for your glasses, and of course, world peace?
Resolved: Be Curmudgeonly In 2008
You've been nice all your life. Time to express your true nature. Make your New Year's Resolution to be a pain in the butt in 2008. It's fun. People expect it of you. If you're a geezer, this is a resolution you'll have no trouble keeping!
The Day The President Threatened Rose's 57-Year Marriage
Here's how to get President W. Bush send a personal Birthday Greeting to someone you love. Ex-presidents Clinton, Bush, and Carter, too. It's a nice gesture, but it can cause BIG TROUBLE.
Seniors Too Trusting? Or Just Stupid?
That retirees are easy targets for scams may be more myth than meaningful. Today's seniors are the last generation of Americans to trust one another. What a shame, then, that such virtue is today twisted and tailored by countless scammers to pick the pockets of the elderly.
A hard look at prevailing attitudes toward "mature women" and why they're all hokum. Older women have learned to appreciate themselves. Unlike many men their age, they've discovered how to be comfortable in their own sometimes-saggy skin.
Put a Touch of Class into Your Retirement
Remember how great college was? It still is. Only today you can take just the classes you want — often free — and still enjoy the atmosphere of youthful energy and intellectual vigor. Not to mention coeds and young hunks!
We answer the ever-pressing

question, "What do I do with my cremains?" How about making a tiny La-Z-Boy recliner? Perhaps a clicker captures your spirit. Or a diamond. Hey, your husband could pass it on to his next wife!
Once you get the hang of traveling with unbound heart and child-like curiosity — all with a dash of pluck — you'll experience the wonders of a travel dimension you didn't know existed!
Sanity Trumps Vanity At 50th High School Class Reunion
No longer did we put others on the judging block of financial success or dredge up to prehistoric foibles. Instead, I encountered 146 grandmas and grandpas, more interested in bragging about their grandchildren than impressing their classmates with grand symbols of status. Most of us didn't even bother to suck in our bellies.
I myself have a full head of hair, good looks, great muscle tone, and the flattest belly this side of the Fifth Street Gym. Why that 65-year-old guy in the mirror let himself go so, I have no idea. But he ought to be ashamed.
The thing is, we seniors know a lot; we just can't remember.
Invisibility? When Did I Turn Invisible?
If you haven't had an invisible moment, you will. By the time you're 85, hardly anyone ever sees you.

"I'm still shaken when young girls look right through me. I forget that I'm bald now." Not to mention a belly that only his wife could consider cute.
Do You Really Want to Live Forever?
Through molecular manipulations, doctors soon will be switching off so-called death genes, reversing aging by craftily messing with chromosome caps, and creating replacement organs on demand.
When we finally discover the only regrets we have are those sins we didn't commit, we're ready to turn all those, "Oh, I shouldn'ts" into a life affirming, "Yes, I must!" We're not getting any younger. Let's live like we mean it!
I don't care what they say. Gettin' old ain't for sissies. I awoke this morning with my neck as stiff and as painful as an Old Testament judgment. Who needs that?
Are We Ever Old Enough To Know Better?
One of the great mysteries of life is why we continue to err right up to the point where we eventually get dying right. In a perfect world, wouldn't life be all about making mistakes until you learn not to make them?
The Roto-Rooting of Dickie and the Twins gave me time to think: Why do we go against our better nature when dealing with the world? And, what the hell is wrong with our president, anyway?
What Women Should Know by the Time They're Senior
Three hundred eighty words as wise as any you'll read this year.
What Older Women Want in a Man
We asked. Do women's standards decrease as they age? You might be surprised at what we learned. From men, too.
Aging gracefully is a myth. Perpetrated by cosmetic hucksters and megavitamin pushers, it falls into the same category of lies as no regrets, such as "I'm 80 now, and looking back, I have no regrets."
At 80, Star Trek's Scotty has a new baby. Is this guy nuts, or what? Beam me up, Daddy.
Hundreds of years of wear and tear have left Santa with a sore back and bunions. As it is for the rest of us, it's time Santa retires. Next year, Christmas is up to you.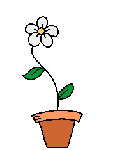 Napping. Not just for seniors anymore.
For years, I've resisted the temptation to sneak off to nap for a half hour or so. Not wanting to be senior before my time, I put napping up there with drinking before noon and wearing white in winter. It wasn't worth the guilt.
An older, single woman usually has had her fill of "meaningful relationships" and "commitment." Can't relate? Can't commit? She could care less. The last thing she needs in her life is another dopey, clingy, whiny, dependent lover!
We seniors have an image problem. And your falling asleep at dinner last night didn't help.
Taking It All Off for GeezerCam
With WebCams for everything else, it's time for GeezerCam. The camera could follow my every movement from the times I get up in the middle of the night to pee right through my exciting day until my wife and I shake hands at bedtime. Exciting? You bet!
Gifts for that Senior in Your Life
When you've lived as long as most seniors, you've got everything — and then some. Here are some helpful hints for gifts seniors will never [admit to]buy for themselves.
The Meaning of Life, and Other Computer Glitches
Search results may be elegant, but they're hardly pretty.
Funny, I Don't Remember Being Absent Minded
Strategies for handling "senior moments" without dying of embarrassment.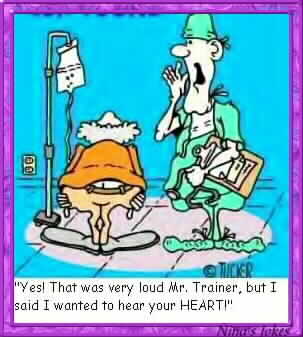 Where's Hot Lips and Hawkeye? God, Ritchie and the Fonz are now bald. I never did seem to find the time to learn all the words to Louie Louie.
For many of us, getting old is bad enough. Having to admit it is intolerable. Here's how to handle ancienticity with alacrity.
I Wanna Be Just Like Her When I Grow Up
"The best way to feel really good about yourself is to exercise," says Rita Moreno. The worst, in my opinion, is that it's never too late to start.
Sadly, many words and phrases that we grew up with are today as dated as buggy whips. Still, occasionally one blows by our ears like the name of our first lover, sweet and warm.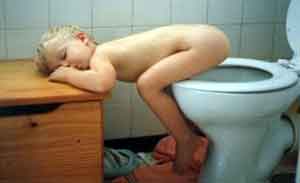 Falling into the Generation Gap?
They may have heard of an 8-track, but chances are they probably never have actually seen or heard one.
Santa's Old Lady Says "Enough is Enough"
By the old girl herself! A ditty about an old lady, fed up with dumb elves, lousy toys, and a husband who snores, farts, and is lazy 364 days a year. Let's hear it for retirement.
Afraid Wealth Will Turn You Greedy?
Truth is, every single senior citizen at the recent AARP convention I spoke to about sudden wealth said, "Bring it on! I can handle it!"
Words put together in ways that seem to resonate with our very soul.