So say gurus like Dr. Phil. His idea: Be brutally honest, painstakingly assessing good points and bad, and finally, chuck out the bad like so much garbage.
Wisenheimer Phil says only then will you feel really good about yourself.
When I hit 65 four years back, I decided to take stock of myself.
Here's what I found: I had grown more tolerant (even of fools), more open to new ideas (even if they weren't mine), and — Wow! — more patient.
All my mother's dictates to me as a kid a half century ago were finally clicking in.
I wasn't chasing women anymore. Hadn't for years. (Probably more a function of age than any heightened moral standards.)
I was more accepting of life as I found it.
And, under the rubric of "body as temple," I ate more spinach and less red meat. I didn't drink. I didn't smoke. I wasn't sedentary (well, compared with the dead), and did my best to drink lots of water.
Know what?
Even after I'd given up all my bad habits, I still didn't feel so hot.


You know how geezers are always grousing about their health, their doctor appointments, their pills and their pains?
Well, I hate to whine, but my bladder has shrunk.
Drastically!
I'd always heard it's the legs that go first. Not true with most men I know. Turns out our plumbing rusts up and springs leaks way before our legs even think about folding.
I considered the cliché, "You'll know that you're old when your back goes out more than you do, when your knees buckle and your belt won't, and when an "all-nighter" means not getting up to go to the bathroom till morning."
It was that last part that troubled me.
So I did what every red-blooded geezer does when he or she first goes mano a mano with old age: I visited my doctor. Who sent me to another. Who sent me to a third, who said, "We'll just stretch that bladder of yours like we were blowing up a balloon. No more yellow eyes for you!"
A little urological humor.
Suddenly Trivia: How many Americans suffer from an overactive bladder? a. 10 million b. 17 million c. 23 million
Enlarging my bladder promised to be a simple in-and-out procedure. The doctors simply jam-pack it with water, stretching it to a manly size once again.
"You'll be out by noon," they told me.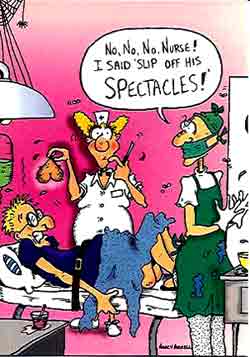 Three days and nine painful, often bloody catheterizations later, I was still in the hospital. My bladder may have been new and improved, but the tail end of the system was having none of it.
I was miserable. Not to mention yellow-eyed.
Turns out that stretching procedure made things worse. My prostate now often takes center stage in my life. Not only am I up four times or more a night, but what used to be a fire hose has turned into a reluctant peashooter.
Go figure!
I now see that unruly gland as Michelin Man, tighter than a frog's butt. The surgeons, on the other hand, see it as a chance to make another buck or three. "We can easily 'ream it out,'" they tell me.
Easy for them. Can you imagine? A Roto-Rooter up the old wazoo?
Yet, it's tempting. Just today, a dripping faucet caused an uncontrollable bladder urge, and I'm now incapable of passing a toilet without using it.
It's embarrassing! I'd just as soon you didn't tell a soul.
But I have to wonder: "Is all this a suitable reward for giving up all my sins, repenting, and currently leading a pure and dull life?"
When I see God, I'm going to ask Him about this. I let you know what He says.
In the meantime, excuse me a minute. I've got to go.


Suddenly Trivia answer: b. 17 million. According to recent estimates, at least 16% of the population over age 40 has chronic and troublesome symptoms of an overactive bladder.
Copyright © 2005 — Frank Kaiser
For others in this series, "The Real Truth About Getting Old," go to http://www.suddenlysenior.com/healthissues.html


A couple months ago I had a procedure called GREEN LITE PVP LASER to correct years of annoying prostate problems, dispite being on very expensive Flomax and Proscar. They helped but I was holding to far too much urine in the bladder, which as you know will cause you problems.

I went into surgery at 7:40AM and was ready to go home at 10:30AM with little if any discomfort, your prostate has no nerve endings. The only restriction was the catheter and the sack attached to my leg for the next three days. Four days after the procedure I was able to referee a high school boys soccer game. The only problem now is that I splash if I am not careful.

A good source of updated information is; American Prostate Society Box 870 Hanover, MD 21076
I would not allow the other procedures like TURP, (Rotor Rooter) because of the many complications and hospital stay that this procedure and others like it present. There are little if any complications
with PVP. The only problem is that because it is the newer procedure there are not the physicians trained to do it and the the urology departments have a large investment in the older equipment which the are trained to use. PVP has made a major improvement in my life and I pee like a kid!!!!

Thanks for all your informative letters.

Best to you and your wife. George Rahlfs


Hi Frank.......I lost my oldest brother to colon cancer in Sept. He had a PSA of 157. I discovered that the PSA reading is only correct 20% of the time. Inflammation and infection can elevate the PSA reading. That means that 4 out of 5 guys with an elevated PSA over normal who have a painful biopsy don't have a slow growing Prostate cancer. Your overall chance of dieing from Prostate Cancer is 3% a year. That means if you are going to be around till 80, you have a 30% chance of dieing from Prostate Cancer after hitting 70. I have Gallstones...I have a 3% chance they will give me a medical problem. Same real statistics.

The medical-drug industry is arguing that the norms for PSA should be set lower..to save more people from prostate cancer. In drug speak..they want to sell more drugs and medical services. The fear that they use is the fact there are some men who have a fast growing prostate cancer, which really means their immune system is not functioning well for whatever reason. This is where good nutrition comes in. What you consume or don't consume is a good indication of how good your Immune system is. This is where a good professional nutritionist comes in.
That is why supplements and avoiding overuse of caffeine and etc. is important. I avoid chemicals in my food at all costs. Your immune system is the eliminator of cancer cells in the body and including the cancer cells in the prostate. For instance, Selenium is key to a normal Prostate. I have an 80 year old friend that had a PSA of 39 and in six months it was down to 4 because he took the mineral selenium. Again, it goes back to nutrition and having the right uptake of vitamins, amino acids, and minerals and avoiding chemicals in our foods including the fact that many prescription drugs deplete the body of essential nutrients. Your cholesterol drugs for instance deplete the body of Co-Enzyme Q 10. Important for normal muscle function of the heart among other things.

If you are over 70, the upper limits of a normal PSA reading is 4.5. The other day I got a PSA done and it is 4.1, which is normal for my age and yours. The Prostate gland grows as we age, and therefore there is more tissue and there is more cells that are degrading and thus the higher PSA is normal. We can reduce the daily problems of an enlarged prostate by watching what we consume when and how much. I'm down to a cup of tea only 3 or 4 times a week since I know it over stimulates my kidneys. If I have more than two alcoholic drinks at dinner, I'm in trouble and am up two to three times during the night. Also, when you drink water and how much can be a problem. A number of times, I forgot there was no bathroom in sight and got into trouble, because I drank before I thought about where I will be in an hour.

I've found that a 3 mg melatonin at night which is a natural way of inducing sleep and tightening the sphincters in the bladder and a hot spa treatment before bed, gets me a full 7-8 hours sleep with out a problem.

Testosterone will drive an enlarged prostate. The drug Lupron counteracts the testosterone in the body. If your doctor has not had you take a blood test to measure your testosterone level, you should. Lupron will shrink the prostate. The other answer is more sex.

I learned from a co-worker at my brother's wake, that he liked to go out at lunch and have a couple of Martini's and a steak. He didn't eat the veggies. Twenty years ago he had polyps removed from the colon. I guess they missed one at the beginning of the colon. That's what did him in. Again, good nutrition balanced with only 6 oz of meat at a serving would have served him well.

One test that all men over 50 should have is a colonoscopy. If polyps are present, you better change your diet.

I wonder how often the physician will counsel the patient about dietary changes to avoid future problems.

I hope this helps.

My Best, Tom Braun