| | |
| --- | --- |
| By Frank Kaiser | CAROLYN BEATS THE REAPER. AGAIN? |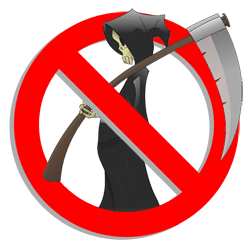 On the evening of October 3rd, Carolyn pretty much reached the point of no return.
After three years ping-ponging between hospital rooms, our home/hospital, and a dozen or so doctors' office's, (most so plain, so dull there's not even a fire exit route to read while you wait), it finally reached this point.
Carolyn lay dying. But she was both comfortable and content for now in her own bed. I knew. She probably wouldn't last the night.
And even with all those doctors, we still didn't know what was wrong with her. Her cancer was in remission. No one could figure it out: Why was she dying?
In despair, I wrote the following to our thousands of fellow suddenly seniors, many old friends after 10 years or more of reading Suddenly Senior:
Carolyn's very ill. As of an hour ago, she was again returning by ambulance to Mease Countryside, our local and quite good hospital here. Our son is with her now... I want to thank you for all your prayers. Tonight, if you have an extra, send it Carolyn's way. Love to all. Frank
I remember thinking, who knows? Can't hurt.

Carolyn was now breathing haltingly.

And then a miracle happened. (Didn't you just know it?) A small miracle, to be sure. Just enough to save Carolyn's life.
Connections Needed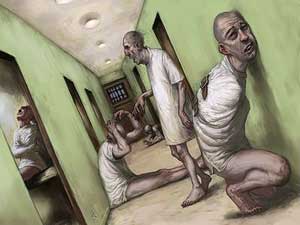 Here in Clearwater, it's our experience that if an ambulance takes you to any of the area's general hospitals, and if there is a nuance of mental disease, doctors at the ER may immediately send you on to the dreaded "locked mental ward" downtown, under arrest, if necessary. There, along with area drunks, dispossessed, some crazy elderly and a bunch of forlorn homeless, few receive medical help. Instead, all are usually held locked up for a requisite four days and released to the streets.
If you are manic, as Carolyn often was in those days, to get a medical hospital room, you must have connections.
Her first three visits, Carolyn had no connections.
Each time, she retuned from four days in the dungeon in tears, sick and frustrated. And yes, frightened. Walking among the insane, the near-dead, and a few wild-eyed criminals about pushed Carolyn over the edge. I was allowed to see her one-hour a day.
Worse, we let them get away with it twice more before we figured the system. Stupid and stressed is a bad combination with me.
Now we again needed medical help. And we knew that Carolyn would again be taken to the mental dungeon if a medical hospital staff doctor didn't admit her directly. Not easy. You truly do need connections. As Carolyn was slipping away, our primary physician worked for days to help Carolyn avoid the dungeon and get right into the hospital. Finally, late on Oct. 3rd, we got the call from our beloved Dr. Thomas: "Room's ready. Bring her now!"
Would she live long enough to get there?
The Ride to Life
My dilemma? Carolyn and I had promised one another not to allow the other to die in the hospital. It was a serious pact. We'd both suffered way too many hospital days recently, on one side of the bed or the other. We wanted simply to live and die at home.
But the phone call brought hope. And with hope, attitudes, even life can change.
***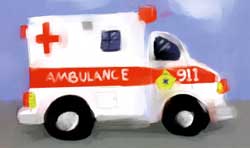 At the hospital and in her own medical room, we learned that Carolyn's "swallower" had failed; all her food and liquids aspirated into her lungs pushing her into pneumonia. Docs blamed seizures, then dementia. Then not dementia. Who knew?
Carolyn, who when admitted, didn't know her name or where she was, couldn't speak coherently, couldn't walk or stand unaided, is today — two months later in a rehab unit — chatting up her physical therapist as she exercises her arms with a small wheel. She now gets physical, swallowing, and other therapies daily. And she's getting better. Much better! You'll soon hear from her, too.

Back to our so-called "miracle."
Carolyn was still unconscious the next day, October 4th. I sat next to her for hours reading aloud many of the 1,600 e-mails sent by readers responding to my note the previous evening.
Once in a while, I'd catch a slight smile on her face as if saying, "Keep reading, you old goat."
Yes. She has a long way to go. But she would be all right, after all, thanks to a caring doctor, a load of e-mail and a whole world full of loving thoughts.
We are so grateful.
Thank you all. Again.
© 2010 — Frank Kaiser
---
LATEST GUEST COLUMNS!
The latest columns from our resident (retired) Drug Pusher, Tom Braun...


NEW! Inside Job
How Sweet it is
Why the uproar over taxes on beverages?
The Mammogram Culture
Could there be a better way to prevent breast cancer?
Hi Sunshine
A Primer on Vitamin D
Osteoporosis, PPI's & Vit D
Big Wheels In Washington Turn Slowly
Lipitor Shrimp Story Revisited
I'm Lovin' It! - Why Ronald McDonald won't retire
From Joe Klock

Am I A Traitor To The Cause Of Geezer Welfare?
From Dave Whitney

Obamacare - You're Going to Love it
It's Getting Lonely Under the Bus
From Susan Pierres, Writer/Photographer:
Lessons I Should Have Learned From My Mother

Crossing the Pond

My 15 Minutes of Fame as the Poster Girl for Menopause
From Joan Price:

NEW! His heart was beating under my hand
Satisfying Senior Sex for Women, Too!
Book Review: Autumn Romance: Stories and Portraits of Love after 50
---
Comment on this week's Suddenly Senior.
Write to Frank at frank@suddenlysenior.com
---
"THE KAISER'S JOURNEY
THROUGH CANCER"
A very personal look at the Kaiser's Health
Frank and Carolyn Kaiser have been to hell and back this last year, healthwise. But you can't keep a good man - or woman - down, as they say. They're very much alive and kicking - just kicking a little more slowly and carefully. [Ed]

CLICK FOR MORE INFO ON THE KAISER'S JOURNEY THROUGH CANCER
---
RECENT GUEST COLUMNS
FEATURED GUEST COLUMNS BY OUR
FRIENDS AT SUDDENLY SENIOR
It's Getting Lonely Under The Bus
You know folks; it's getting lonely under the bus these days. After Congress threw us geezers under the bus by denying us any increase in our Social Security payments, this year I figured we might have a few of them to share the space with us, since they claimed they were doing the same by not taking the automatic pay raise they have handed themselves year in and year out.

As a young boy, I watched the Queen Elizabeth 2 being built on the River Clyde in Scotland, one of the last great ships to be built there. This week's story by Travel Editor Susan Pierres evokes the (almost) bygone age of ocean steamer crossings, as she tells of the joys of crossing the pond and back aboard the QE2. "Crossing takes us back to the truly civilized world of yesteryear, to an era of gracious lethargy, to courtly manners and conversation, to a sublime sense of peace and calm." [Ed.]

As Valentines day comes around once more, thoughts may turn to our love life ... or lack of it. Especially if you are on your own, through separation, divorce, death of a partner, or if you've always been single. Facing the prospect of growing old alone, with children grown up and gone, men and women are turning to online dating in the hope of meeting their perfect match.
What a quaint concept! In this day of almost $3-a-gallon gas, imagine getting actual service, too. Today, it's as bizarre a notion to anyone under 40 as a gentleman's tipping his hat to a lady. About 40 years ago, both were part of everyday life in America.

---
Are you Single and Looking? Good news!
Introducing SuddenlySeniorDating.com an online dating venue where Seniors can meet their match!
Free to join!
---
Now read by 3.1 million seniors at Websites and 85 newspapers from the St. Petersburg Times to the Mumbai India News.
CLICK FOR MORE INFO
---
BE SURE TO CHECK OUT THE HELPFUL LINKS BELOW
---
PLANNING YOUR VACATION FOR 2010?
ACCORDING TO GOOGLE, SUDDENLY SENIOR'S TRAVEL PAGE IS AMONG THE MOST POPULAR IN THE WORLD. SEE WHY HERE!
---
THIS WEEK'S BEST LINK
A Moving Collage of Beautiful Woman
As They Go from Young To Old.
---
THIS WEEK'S BEST SENIOR CARTOON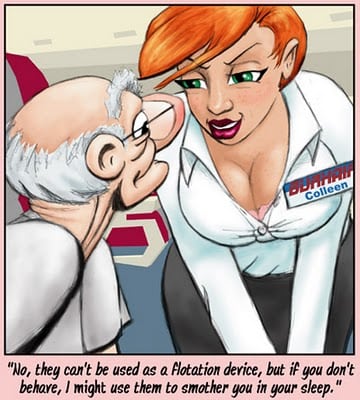 ---
Want to comment on this week's Suddenly Senior column?
Click here!
---
THIS WEEK'S BEST 222 SENIOR SITES
http://www.suddenlysenior.com/links.shtml
- - - - - - - - - - - - - - - - - - - - - - - - -
THE BEST OF SENIOR SEX
http://www.suddenlysenior.com/sexpage.html
- - - - - - - - - - - - - - - - - - - - - - - - - -
SEE THE BEST SENIOR NOSTALGIA ANYWHERE,
http://www.suddenlysenior.com/nostalgiapage.html
- - - - - - - - - - - - - - - - - - - - - - - - - -
SEE THE BEST SENIOR TRIVIA ANYWHERE,
http://www.suddenlysenior.com/triviapage.html
---
Frank Kaiser frank@suddenlysenior.com
http://www.suddenlysenior.com/
Suddenly Senior - the nationally syndicated column read by 3.1-million over age 50 in 176 countries who've become senior way before their time.
Get suddenly senior every Friday. Simply send a blank e-mail to get-ss@suddenlysenior.com. To cancel your free suddenly senior e-mail, send a blank e-mail to remove-sslist@suddenlysenior.com.